6ft Life Size Personalized Teddy Bears – Customize message and your fur color!
Bear Bio:
This is the ultimate gift for someone you love – a life size 6ft (72in) teddy bear that you can customize with your choice of snuggly soft fur color and a personalized message from you printed on the bear's shirt. Our Cuddles bears are heart-meltingly adorable, with big huggable bodies, warm brown eyes, and big smiles on their faces. They are huge! And the personalized paw print shirt is a perfect gift for Valentine's Day, anniversaries, birthdays or anytime you want to send a special message.
Choose Your Bear:
You get to select your favorite color! Please use the pull down menu to make your color selection before adding it to the cart.
72in Pink Lady Cuddles
72in Vanilla Cream Cozy Cuddles
72in Chocolate Brownie Cuddles
72in Mocha Sunny Cuddles
72in White Coco Cuddles
72in Red Bitsy Cuddles
72in Purple Dee Dee Cuddles
The Shirt:
The custom shirt is specially sized for our 6ft (72in) teddy bears, and is washable and removable. White shirt with a large gold paw print design and a message from you (up to 5 words) printed underneath.
*Enter your message in the 'Shirt Message' box – please check spelling carefully as we will print it exactly as you type it.
Greeting Card
Don't forget the greeting card! Type up to 70 words in the "Card Message" box and we'll print it inside one of our custom Giant Teddy full size greeting cards and tuck it in the box with your bear.
How BIG is this Giant Teddy?
These are our life size teddy bears 6ft tall (72in) and here is how that looks: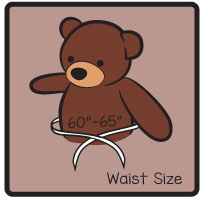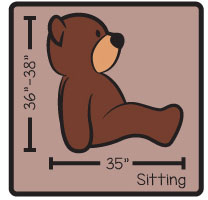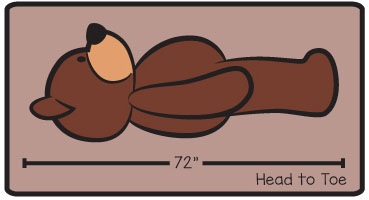 Other Valentine's Day Giant Teddy Bears
Warranty Information
Each Giant Teddy bear is made of high quality plush fabric and passes all U.S. safety standards. Every Giant Teddy bear is guaranteed for 6 months, from the purchase date, against defects in material and workmanship. The accessories and props, including clocks, chairs, and heart pillows, pictured alongside this item MAY NOT BE INCLUDED; they are shown for size and proportion comparison only. See product description for accessories, if any, included with this item
Description

6ft Life Size Personalized Teddy Bears – Customize message and your fur color!

Bear Bio:
This is the ultimate gift for someone you love – a life size 6ft (72in) teddy bear that you can customize with your choice of snuggly soft fur color and a personalized message from you printed on the bear's shirt. Our Cuddles bears are heart-meltingly adorable, with big huggable bodies, warm brown eyes, and big smiles on their faces. They are huge! And the personalized paw print shirt is a perfect gift for Valentine's Day, anniversaries, birthdays or anytime you want to send a special message.

Choose Your Bear:
You get to select your favorite color! Please use the pull down menu to make your color selection before adding it to the cart.

72in Pink Lady Cuddles
72in Vanilla Cream Cozy Cuddles
72in Chocolate Brownie Cuddles
72in Mocha Sunny Cuddles
72in White Coco Cuddles
72in Red Bitsy Cuddles
72in Purple Dee Dee Cuddles

The Shirt:
The custom shirt is specially sized for our 6ft (72in) teddy bears, and is washable and removable. White shirt with a large gold paw print design and a message from you (up to 5 words) printed underneath.

*Enter your message in the 'Shirt Message' box – please check spelling carefully as we will print it exactly as you type it.

Greeting Card
Don't forget the greeting card! Type up to 70 words in the "Card Message" box and we'll print it inside one of our custom Giant Teddy full size greeting cards and tuck it in the box with your bear.

How BIG is this Giant Teddy?
These are our life size teddy bears 6ft tall (72in) and here is how that looks:

Other Valentine's Day Giant Teddy Bears

Warranty Information

Warranty Information

Each Giant Teddy bear is made of high quality plush fabric and passes all U.S. safety standards. Every Giant Teddy bear is guaranteed for 6 months, from the purchase date, against defects in material and workmanship. The accessories and props, including clocks, chairs, and heart pillows, pictured alongside this item MAY NOT BE INCLUDED; they are shown for size and proportion comparison only. See product description for accessories, if any, included with this item

Reviews

Reviews

The bear was delivered within the time range. My friends loved the bear, the family got a big laugh. If the occasion should arise I would use the your service again.

The bear arrived on time and was as ordered I am very happy with the service thank you