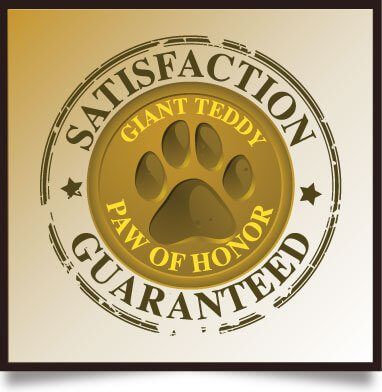 We consider Giant Teddy brand bears FRIENDS, not just bears. Great care is taken during our teddy bear order and assembly process. With a tremendous emphasis on accuracy and attention to detail, we ensure that the quality our customers have come to expect from us will always be present in our teddy bear friends. We believe that quality and durability are a measure of environmental & customer friendliness.
The Giant Teddy "Paw of Honor" symbolizes our commitment to some very important objectives that we call F.R.I.E.N.D.S. for short:
Fast and convenient shopping
Reliable & Outstanding Customer service
Impressive product selection
Exceptional product quality
No hassle return policy
Delivery to your doorstep
Secure payment procedures
Fast and convenient shopping
We commit to providing an easy to view product website with categories that allow you to find what you are looking for with just a click of your mouse. We promise to list our "shop by" categories, new items, website deals, and top sellers on our homepage. We strive to make shopping a breeze by providing clear product prices, item specifications in each product descriptions and detailed product photographs that visually confirm the quality and proportion of our teddy bears.
Impressive Product Selection
We promise to offer you an incomparable online selection of adorable teddy bears. We will always provide the best selection of well-proportioned teddy bears ranging in height between 18" - 65". As well as offering a large variety of sizes, we promise a colorful gender friendly range of bears in light and bold hues! We promise to keep our product selection fresh and up to date with each season by introducing new bears to our Giant Teddy bear family!
Exceptional Product Quality
Quality is built into every step, from initial design and fabric selection to meticulous construction and stitching. We sell only Giant Teddy brand products. Giant Teddy brand bears last longer and are ecological as they have a lower eco-impact over their life span. We use medium to heavy weight fabric on all of our teddy bears so Giant Teddy Brand teddy bears won't wear out easily and can be loved for years. Shop with confidence, knowing that every Giant Teddy brand bear is carefully inspected twice for any flaws. All Giant Teddy brand bears are stuffed with love and must pass the "Hug Test" before heading to their new home. We make sure that your pick from our amazing selection of teddy bears is perfectly huggable, well proportioned and ready to give you a big teddy bear hug!
No Hassle Return Policy
At Giant Teddy, we stand behind our products 100%. If for any reason you are not satisfied with your purchase, you have our "Paw of Honor" that all Giant Teddy brand bears carry a 30-day No Questions Asked, Money Back Guarantee. We are confident that you will love your brand new Giant Teddy brand teddy bear friend. However, if you are not satisfied with your purchase, please call or email us and we will assist you with the return of your order within 30 days of the purchase date. For details or for more information please visit our Shipping & Returns page.
Delivery To Your Doorstep
We strive to make your shopping experience easy and convenient. Which is why we deliver to your doorstep. We value your time and we want you to know that special customer delivery request and deadlines are taken extremely serious. We promise to provide you with up to date shipment info upon your request. You have our commitment that we will do our best to deliver your order accurately and on time to the desired address, every time.
Secure Payment Procedures
You can shop with our promise that your personal & payment information will not be shared with or viewed by other parties. To prevent unauthorized access, maintain data accuracy, and ensure the correct use of information, we have put in place appropriate physical, electronic, and managerial procedures to safeguard and secure the information we collect online, especially your payment info.
Quality friends are hard to find but worth searching for.
Friends make time fly.
They understand your needs.
Friends brighten up your day and are only a phone call away.
Friends make you smile.
Friends meet you more than half way.
Always count on F.R.I.E.N.D.S. when you shop with Giant Teddy.
You have our "Paw of Honor".