4ft Ricky Xiong, Giant Valentine's Day Panda Teddy Bear with Fluffy Red Heart Pillow
Say, "I love you" with the cutest messenger around! Our adorable 48in (4ft) panda teddy bear, Ricky Xiong (pronounced shee-ong and meaning "bear") is perfect as a special Valentine's Day Panda Bear, holding a fluffy plush red heart embroidered with "I love you" in white script writing. Ricky is super soft with cuddly black and white fur and is waiting for big hugs from someone beary special.
Like all Giant Teddy brand bears, Ricky is safe for all ages and stuffed with love in sunny California using new, hypoallergenic materials that are lightweight, meet all US Safety Standards, and won't clump so Ricky stays looking great hug after hug.
**Heart pillow accessory is loosely attached (sewn) on. For easy removal cut the thread loosely sewn. **
How BIG is Ricky Xiong?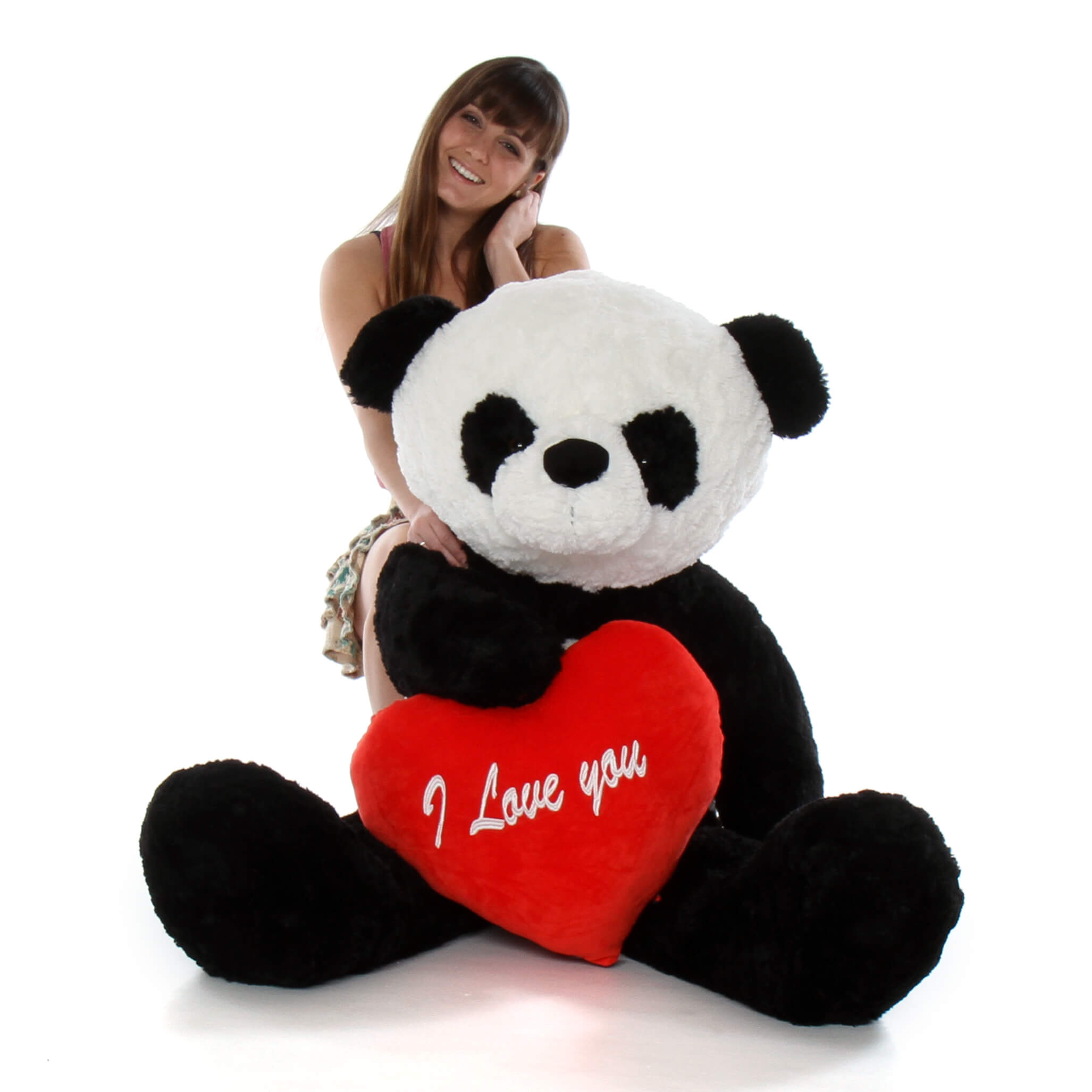 Giant Teddy makes some of the world's biggest teddy bears, and we carefully balance giant size with total quality and extreme cuteness.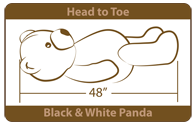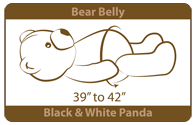 48in Precious Xiong is the same height as a person who is 4 feet tall, but she is much bigger overall! She has a huge teddy bear head and big plump bear body with large arms & legs.
How Fast Will Ricky Xiong Arrive?
We make it easy to order oversized teddy bears online, delivered to your door with FREE SHIPPING in the 48 Continental U.S. states. Please allow 3 to 7 business days for Free Shipping.
Need your Giant Teddy to arrive faster? We offer Overnight and Second Day delivery in the 48 Continental States (restrictions may apply.
You can see our delivery map for estimated Bear Travel Time to your shipping location, or use the "Estimate Shipping & Tax" tool once you place an item in your shopping cart. All available Shipping Options based on your delivery zip code will be shown while you are checking out.
Want to send a Giant Teddy somewhere outside the US 48? See our Shipping Page for information or use the "Estimate Shipping & Tax" tool in the shopping cart to see what options we offer for your shipping destination's zip code, postal code and country.
How Will Ricky Xiong Travel?
Most times, Giant Teddy bears travel to you in cardboard box with the Giant Teddy logo on the side, delivered directly to your door. If you need a plain cardboard box for a "surprise gift" please tell us in the order comments section.
Our very biggest bears arrive in a vacuum-sealed bag – open it carefully and watch your huge bear spring to life before your very eyes!
Does Ricky Xiong Come in other sizes?
Ricky Xiong is our 4 ft panda, but he has a brother named Rocky Xiong who is 72in (6 ft), and a sister named Precious Xiong who is 60in (5 ft). He also has some adorable Panda relatives in our Giant Teddy Xin Panda Family with a different body style and shape.
Click here to see ALL available Panda Teddy Bear sizes
Have more questions about the Giant Teddy brand, our bears or our warranty? Ask us! info@giantteddy.com
Additional Information
All stuffed animals crafted by Giant Teddy are stuffed to order at our headquarters in Anaheim, California. We design all aspects of the stuffed animals, including the stitching of the expressions on the face, color of the plush fur, and even precise arrangement of the paw pads. Our designs are executed and produced exactly in collaboration with partners in China, from where we source the luxe shells. New polyester filling is sourced locally in the US, then processed into premium, fluffy Giant Teddy stuffing by our technicians in Anaheim. We stuff the bears, finish them by hand, and inspect each one for perfection before shipping. Our bears are guaranteed to last you a lifetime.
All Giant Teddy bears exceed U.S. child safety standards.
The accessories and props, including clocks & heart pillows, pictured alongside this item may not be included; they are shown for size and proportion comparison only. See product description for accessories, if any, included with this item.
Remove any unattached accessories, all tags and plastic loops before giving to a child younger than 3 years of age
Description

4ft Ricky Xiong, Giant Valentine's Day Panda Teddy Bear with Fluffy Red Heart Pillow
Say, "I love you" with the cutest messenger around! Our adorable 48in (4ft) panda teddy bear, Ricky Xiong (pronounced shee-ong and meaning "bear") is perfect as a special Valentine's Day Panda Bear, holding a fluffy plush red heart embroidered with "I love you" in white script writing. Ricky is super soft with cuddly black and white fur and is waiting for big hugs from someone beary special.
Like all Giant Teddy brand bears, Ricky is safe for all ages and stuffed with love in sunny California using new, hypoallergenic materials that are lightweight, meet all US Safety Standards, and won't clump so Ricky stays looking great hug after hug.

**Heart pillow accessory is loosely attached (sewn) on. For easy removal cut the thread loosely sewn. **

How BIG is Ricky Xiong?

Giant Teddy makes some of the world's biggest teddy bears, and we carefully balance giant size with total quality and extreme cuteness.

48in Precious Xiong is the same height as a person who is 4 feet tall, but she is much bigger overall! She has a huge teddy bear head and big plump bear body with large arms & legs.

How Fast Will Ricky Xiong Arrive?
We make it easy to order oversized teddy bears online, delivered to your door with FREE SHIPPING in the 48 Continental U.S. states. Please allow 3 to 7 business days for Free Shipping.
Need your Giant Teddy to arrive faster? We offer Overnight and Second Day delivery in the 48 Continental States (restrictions may apply.
You can see our delivery map for estimated Bear Travel Time to your shipping location, or use the "Estimate Shipping & Tax" tool once you place an item in your shopping cart. All available Shipping Options based on your delivery zip code will be shown while you are checking out.
Want to send a Giant Teddy somewhere outside the US 48? See our Shipping Page for information or use the "Estimate Shipping & Tax" tool in the shopping cart to see what options we offer for your shipping destination's zip code, postal code and country.

How Will Ricky Xiong Travel?
Most times, Giant Teddy bears travel to you in cardboard box with the Giant Teddy logo on the side, delivered directly to your door. If you need a plain cardboard box for a "surprise gift" please tell us in the order comments section.
Our very biggest bears arrive in a vacuum-sealed bag – open it carefully and watch your huge bear spring to life before your very eyes!

Does Ricky Xiong Come in other sizes?
Ricky Xiong is our 4 ft panda, but he has a brother named Rocky Xiong who is 72in (6 ft), and a sister named Precious Xiong who is 60in (5 ft). He also has some adorable Panda relatives in our Giant Teddy Xin Panda Family with a different body style and shape.
Click here to see ALL available Panda Teddy Bear sizes
Have more questions about the Giant Teddy brand, our bears or our warranty? Ask us! info@giantteddy.com

Additional Information

Additional Information

All stuffed animals crafted by Giant Teddy are stuffed to order at our headquarters in Anaheim, California. We design all aspects of the stuffed animals, including the stitching of the expressions on the face, color of the plush fur, and even precise arrangement of the paw pads. Our designs are executed and produced exactly in collaboration with partners in China, from where we source the luxe shells. New polyester filling is sourced locally in the US, then processed into premium, fluffy Giant Teddy stuffing by our technicians in Anaheim. We stuff the bears, finish them by hand, and inspect each one for perfection before shipping. Our bears are guaranteed to last you a lifetime.

All Giant Teddy bears exceed U.S. child safety standards.

The accessories and props, including clocks & heart pillows, pictured alongside this item may not be included; they are shown for size and proportion comparison only. See product description for accessories, if any, included with this item.

Remove any unattached accessories, all tags and plastic loops before giving to a child younger than 3 years of age

Reviews