Life Size Yellow Teddy Bear Daisy Cuddles 48in
Bear Bio:
Daisy Cuddles in our enormous life size 4ft (48in) tall size will make you say "Wow!" She's cuddly and soft and totally huggable, with beautiful sunny yellow fur that makes you feel happy. Daisy has a sweet smile on her face and a chubby brown nose that's velvety soft. She wears a brown and white checked neck bow (a signature of all the bears in our Cuddles family) and she is big and snuggly all over. When you need an extra big slice of happy, Daisy Cuddles is the huge yellow teddy bear you can count on in a big way.
How BIG is this Giant Teddy?
Daisy Cuddles is a life size teddy bear 48in (4' 0") tall and here is how that looks:



Searching for other premium Yellow giant teddy bears sizes?
Click on our comparison chart below to meet the rest!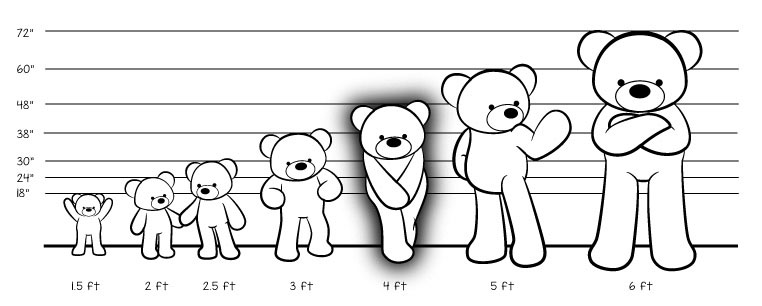 Check out our unique color collection of the Cuddles Family here.

Warranty Information
Each Giant Teddy bear is made of high quality plush fabric and passes all U.S. safety standards. Every Giant Teddy bear is guaranteed for 6 months, from the purchase date, against defects in material and workmanship. The accessories and props, including clocks & heart pillows, pictured alongside this item may not be included; they are shown for size and proportion comparison only. See product description for accessories, if any, included with this item
Description

Life Size Yellow Teddy Bear Daisy Cuddles 48in

Bear Bio:
Daisy Cuddles in our enormous life size 4ft (48in) tall size will make you say "Wow!" She's cuddly and soft and totally huggable, with beautiful sunny yellow fur that makes you feel happy. Daisy has a sweet smile on her face and a chubby brown nose that's velvety soft. She wears a brown and white checked neck bow (a signature of all the bears in our Cuddles family) and she is big and snuggly all over. When you need an extra big slice of happy, Daisy Cuddles is the huge yellow teddy bear you can count on in a big way.

How BIG is this Giant Teddy?
Daisy Cuddles is a life size teddy bear 48in (4' 0") tall and here is how that looks:


Searching for other premium Yellow giant teddy bears sizes?
Click on our comparison chart below to meet the rest!

Check out our unique color collection of the Cuddles Family here.


Warranty Information

Warranty Information

Each Giant Teddy bear is made of high quality plush fabric and passes all U.S. safety standards. Every Giant Teddy bear is guaranteed for 6 months, from the purchase date, against defects in material and workmanship. The accessories and props, including clocks & heart pillows, pictured alongside this item may not be included; they are shown for size and proportion comparison only. See product description for accessories, if any, included with this item

Reviews