5ft (60in) Life Size Cuddles Cupcake Bear: Choose Your Color
What do you get when you take our impressive, life size 5ft Cuddles Family teddy bears and add an adorable plush cupcake? A sweet gift idea that will cause a lot of "Awww!"s from the lucky people who get one!
About Our 5ft Cuddles Cupcake Bears
Life Size 5ft (60in) HUGE size is super cuddly soft and huggable

Select your favorite fur color (Please use drop down menu to choose from available colors)

Comes holding a sweet plush cupcake including sprinkles and a candle made with all plush materials.

Made in the USA, safe for all ages
(please follow suggested expert safety guidelines regarding infants, babies and toddlers with soft toys, and do not leave in cribs or with unsupervised or sleeping children.)
**Cupcake is attached to both paws as pictured

How BIG is this Giant Teddy Brand Stuffed Animal Friend?
This is one of our Huge Life Size 5ft (60in) teddy bears from the Cuddles Bear Family style.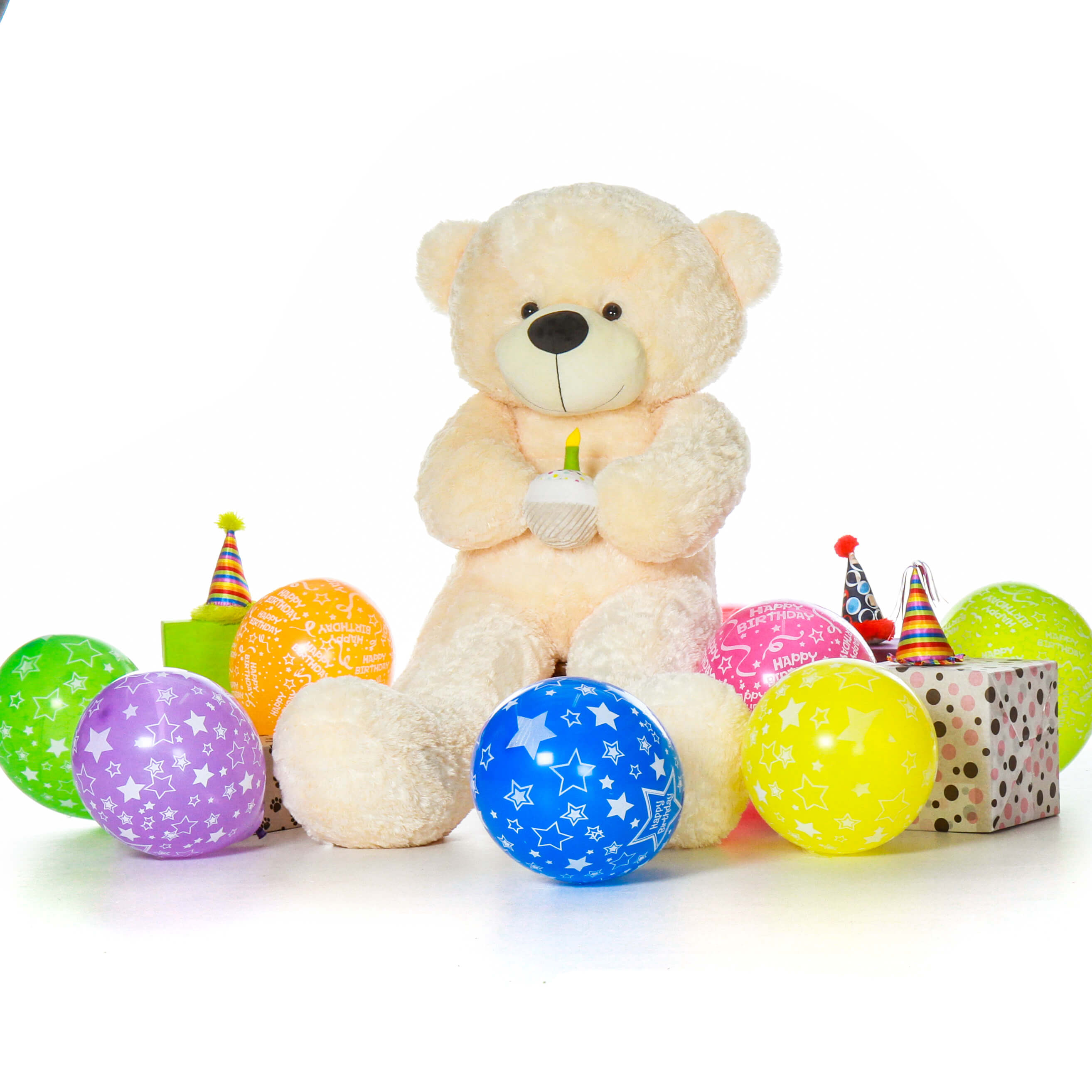 Warranty Information
Each Giant Teddy bear is made of high quality plush fabric and passes all U.S. safety standards. Every Giant Teddy bear is guaranteed for 6 months, from the purchase date, against defects in material and workmanship. The accessories and props, including clocks & heart pillows, pictured alongside this item may not be included; they are shown for size and proportion comparison only. See product description for accessories, if any, included with this item
Description

5ft (60in) Life Size Cuddles Cupcake Bear: Choose Your Color

What do you get when you take our impressive, life size 5ft Cuddles Family teddy bears and add an adorable plush cupcake? A sweet gift idea that will cause a lot of "Awww!"s from the lucky people who get one!

About Our 5ft Cuddles Cupcake Bears

Life Size 5ft (60in) HUGE size is super cuddly soft and huggable

Select your favorite fur color (Please use drop down menu to choose from available colors)

Comes holding a sweet plush cupcake including sprinkles and a candle made with all plush materials.

Made in the USA, safe for all ages

(please follow suggested expert safety guidelines regarding infants, babies and toddlers with soft toys, and do not leave in cribs or with unsupervised or sleeping children.)

**Cupcake is attached to both paws as pictured


How BIG is this Giant Teddy Brand Stuffed Animal Friend?

This is one of our Huge Life Size 5ft (60in) teddy bears from the Cuddles Bear Family style.

Warranty Information

Warranty Information

Each Giant Teddy bear is made of high quality plush fabric and passes all U.S. safety standards. Every Giant Teddy bear is guaranteed for 6 months, from the purchase date, against defects in material and workmanship. The accessories and props, including clocks & heart pillows, pictured alongside this item may not be included; they are shown for size and proportion comparison only. See product description for accessories, if any, included with this item

Reviews