5ft Life Size Blue Merry Christmas Teddy Bear Happy Cuddles
Bear Bio:
We want you to be happy this Christmas and we think our huge life size 60in (5ft) teddy bear Happy Cuddles is the perfect gift idea! Happy is a beautiful shade of vibrant light blue, and he is so cuddly soft (we've had to ask the Elves to stop hugging him so they can get more work done.) He has big dark eyes, a chubby black nose, and a big happy smile on his face. Happy is wearing our cute 'Merry Christmas' shirt design featuring a snowman, Santa and Rudolph. Happy Cuddles wishes you a Beary Merry Christmas!
The custom shirt is specially sized for our 5ft (60in) Happy Cuddles teddy bear, and is washable and removable. The design features a snowman, Santa, and Rudolph over the text, 'Merry Christmas' on a white background.
*Note: this shirt design does not feature any additional personalization.
Greeting Card
Don't forget the greeting card! Type up to 70 words in the "Card Message" box and we'll print it inside one of our custom Giant Teddy full size greeting cards and tuck it in the box with Merry Christmas Happy Cuddles.
How BIG is this Giant Teddy?
Happy Cuddles is a huge life size blue teddy bear 5ft tall (60in) and here is how that looks: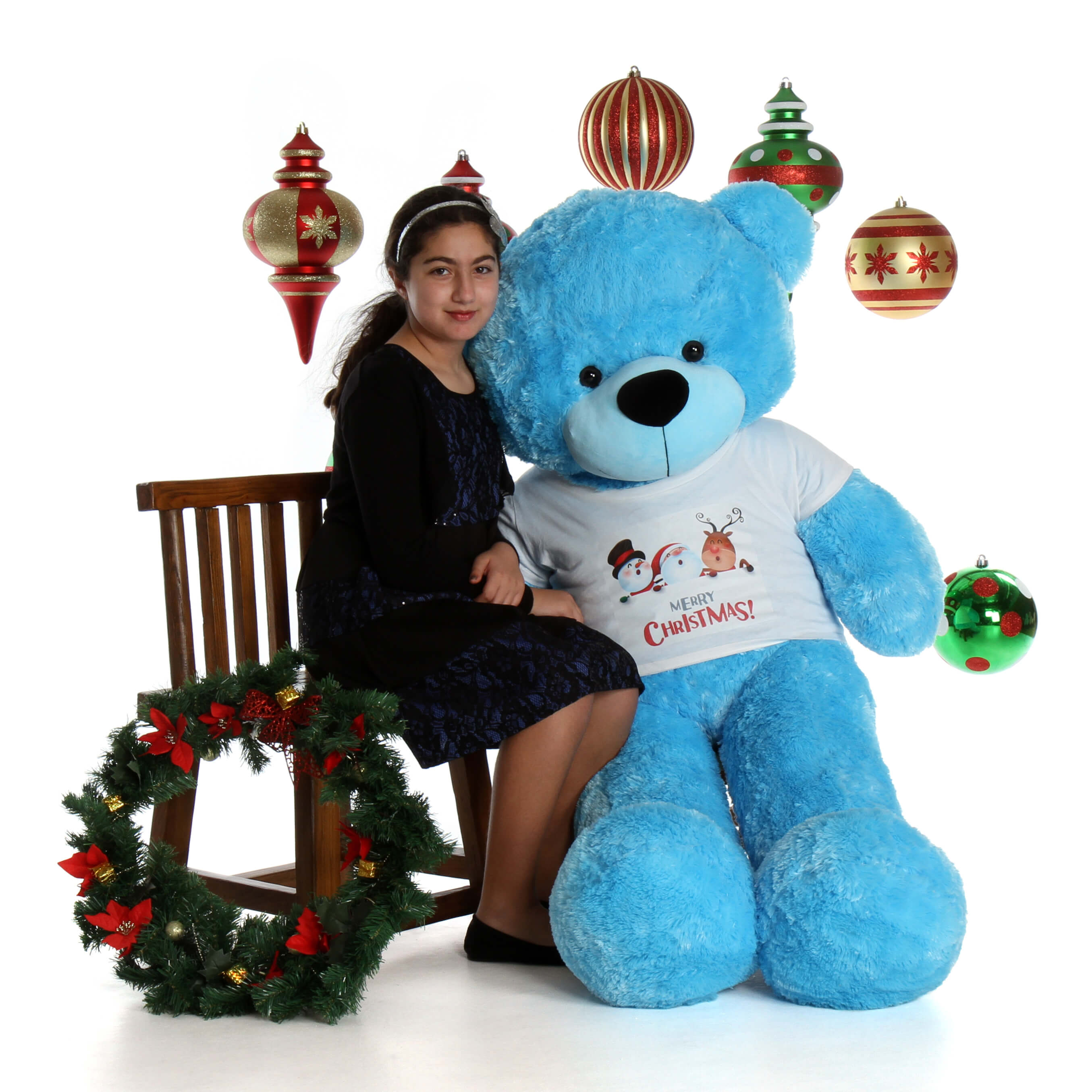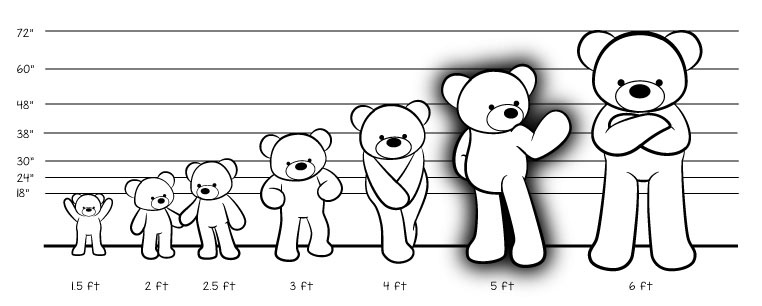 Additional Information
All stuffed animals crafted by Giant Teddy are stuffed to order at our headquarters in Anaheim, California. We design all aspects of the stuffed animals, including the stitching of the expressions on the face, color of the plush fur, and even precise arrangement of the paw pads. Our designs are executed and produced exactly in collaboration with partners in China, from where we source the luxe shells. New polyester filling is sourced locally in the US, then processed into premium, fluffy Giant Teddy stuffing by our technicians in Anaheim. We stuff the bears, finish them by hand, and inspect each one for perfection before shipping. Our bears are guaranteed to last you a lifetime.
All Giant Teddy bears exceed U.S. child safety standards.
The accessories and props, including clocks & heart pillows, pictured alongside this item may not be included; they are shown for size and proportion comparison only. See product description for accessories, if any, included with this item.
Remove any unattached accessories, all tags and plastic loops before giving to a child younger than 3 years of age
Description

5ft Life Size Blue Merry Christmas Teddy Bear Happy Cuddles

Bear Bio:
We want you to be happy this Christmas and we think our huge life size 60in (5ft) teddy bear Happy Cuddles is the perfect gift idea! Happy is a beautiful shade of vibrant light blue, and he is so cuddly soft (we've had to ask the Elves to stop hugging him so they can get more work done.) He has big dark eyes, a chubby black nose, and a big happy smile on his face. Happy is wearing our cute 'Merry Christmas' shirt design featuring a snowman, Santa and Rudolph. Happy Cuddles wishes you a Beary Merry Christmas!

The custom shirt is specially sized for our 5ft (60in) Happy Cuddles teddy bear, and is washable and removable. The design features a snowman, Santa, and Rudolph over the text, 'Merry Christmas' on a white background.

*Note: this shirt design does not feature any additional personalization.

Greeting Card
Don't forget the greeting card! Type up to 70 words in the "Card Message" box and we'll print it inside one of our custom Giant Teddy full size greeting cards and tuck it in the box with Merry Christmas Happy Cuddles.

How BIG is this Giant Teddy?

Happy Cuddles is a huge life size blue teddy bear 5ft tall (60in) and here is how that looks:

Additional Information

Additional Information

All stuffed animals crafted by Giant Teddy are stuffed to order at our headquarters in Anaheim, California. We design all aspects of the stuffed animals, including the stitching of the expressions on the face, color of the plush fur, and even precise arrangement of the paw pads. Our designs are executed and produced exactly in collaboration with partners in China, from where we source the luxe shells. New polyester filling is sourced locally in the US, then processed into premium, fluffy Giant Teddy stuffing by our technicians in Anaheim. We stuff the bears, finish them by hand, and inspect each one for perfection before shipping. Our bears are guaranteed to last you a lifetime.

All Giant Teddy bears exceed U.S. child safety standards.

The accessories and props, including clocks & heart pillows, pictured alongside this item may not be included; they are shown for size and proportion comparison only. See product description for accessories, if any, included with this item.

Remove any unattached accessories, all tags and plastic loops before giving to a child younger than 3 years of age

Reviews