Write a Review (5ft Life Size Giant Teddy for Valentine's Day pink Lady Cuddles with I Love You shirt)
60in Lady Cuddles Life Size Pink Teddy Bear for Valentine's Day in 'I Love You' shirt

Bear Bio:
We can hear you saying, "Awww" over this life size 5ft pink teddy bear! Lady Cuddles is beyond big in our 60in size, and she's the perfect Valentine's Day teddy bear with her soft, plushy pink fur and her adorable shirt that says, 'I [heart symbol] you' on the front. Lady Cuddles has big brown eyes, a soft, chubby black nose, and she's a famous teddy bear, appearing on a hit TV show and acting as spokesbear for several charity event. Say I love you in a big way when you send this sweet, impressive teddy bear to someone special.

Lady Cuddles has been on TV and does a lot of charity work! Find out more on our Bear Paw Walk of Fame.
How BIG is this Giant Teddy?
Lady Cuddles is a huge life size teddy bear 60in tall (5' 0") and here is how that looks:

You Might Like:
Valentine's Day Teddy Bears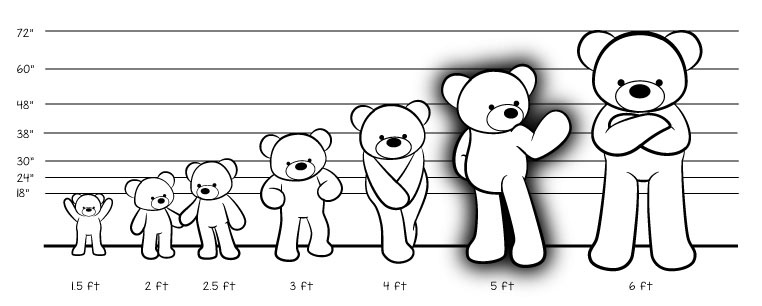 Each Giant Teddy bear is made of high quality plush fabric and passes all U.S. safety standards. Every Giant Teddy bear is guaranteed for 6 months, from the purchase date, against defects in material and workmanship. The accessories and props, including clocks & heart pillows, pictured alongside this item may not be included; they are shown for size and proportion comparison only. See product description for accessories, if any, included with this item
Lady Cuddles, Giant Pink Teddy Bear She's big, pink and fabulous! Lady Cuddles is a huge, oversized 6-foot teddy bear that will be the gift of a lifetime for some special person you know. She...
72in Life Size Pink Lady Cuddles Personalized Teddy Bear in Red Heart ShirtBear Bio:Send a message of really big love with our amazing life size 6ft personalized pink teddy bear, Lady Cuddles!...