Personalized Life Size Giant Teddy Bear:
60in Mocha Sunny Cuddles with Big Red Heart Personalized Shirt
Bear Bio:
Jaws will drop and hugs will commence when you give someone you love this huge life size 5ft (60in) personalized teddy bear! Sunny Cuddles is big and soft, with cuddly mocha brown fur, warm brown eyes, a soft, big chubby black nose, and a great big smile. Sunny Cuddles is wearing our custom Giant Teddy Big Red Heart Teddy T-Shirt, with space for a personal 3-5 word message from you. The shirt is white and is removable. Sunny Cuddles is one of our most popular Giant Teddy bears, and he makes a great friendly or romantic personalized gift for someone close to your heart.
How BIG is this Giant Teddy?
Sunny Cuddles Personalized Teddy Bear is a life size 60in (5' 0") tall and here is how that looks:


Searching for other premium White giant teddy bears sizes?
Click on our comparison chart below to meet the rest!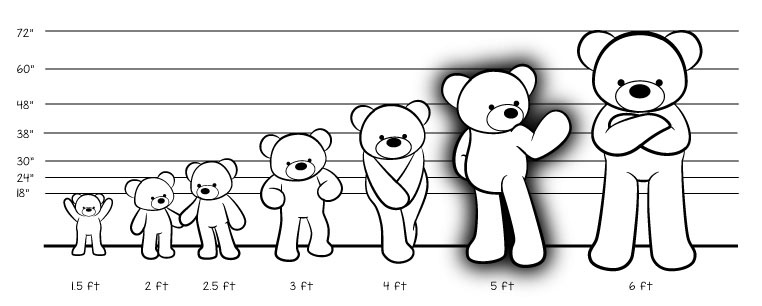 Check out our unique color collection of the Cuddles Family here.

Warranty Information
Each Giant Teddy bear is made of high quality plush fabric and passes all U.S. safety standards. Every Giant Teddy bear is guaranteed for 6 months, from the purchase date, against defects in material and workmanship. The accessories and props, including clocks & heart pillows, pictured alongside this item may not be included; they are shown for size and proportion comparison only. See product description for accessories, if any, included with this item
Description

Personalized Life Size Giant Teddy Bear:
60in Mocha Sunny Cuddles with Big Red Heart Personalized Shirt

Bear Bio:
Jaws will drop and hugs will commence when you give someone you love this huge life size 5ft (60in) personalized teddy bear! Sunny Cuddles is big and soft, with cuddly mocha brown fur, warm brown eyes, a soft, big chubby black nose, and a great big smile. Sunny Cuddles is wearing our custom Giant Teddy Big Red Heart Teddy T-Shirt, with space for a personal 3-5 word message from you. The shirt is white and is removable. Sunny Cuddles is one of our most popular Giant Teddy bears, and he makes a great friendly or romantic personalized gift for someone close to your heart.

How BIG is this Giant Teddy?
Sunny Cuddles Personalized Teddy Bear is a life size 60in (5' 0") tall and here is how that looks:

Searching for other premium White giant teddy bears sizes?
Click on our comparison chart below to meet the rest!


Check out our unique color collection of the Cuddles Family here.


Warranty Information

Warranty Information

Each Giant Teddy bear is made of high quality plush fabric and passes all U.S. safety standards. Every Giant Teddy bear is guaranteed for 6 months, from the purchase date, against defects in material and workmanship. The accessories and props, including clocks & heart pillows, pictured alongside this item may not be included; they are shown for size and proportion comparison only. See product description for accessories, if any, included with this item

Reviews

Reviews

Got this one for my daughter for Christmas! It's all she wanted and loves it!

This bear was a lot more stuffed than i thought and it seems well made my girlfriend loves it definitely a good buy