Write a Review (5ft Life Size Stuffed Monkey Big Daddy with I love you heart pillow from Giant Teddy brand)
58in Life Size Big Daddy Monkey with plush red "I love you" heart pillow
Monkey Bio:
Meet 5ft tall (58in) Big Daddy from our Monkey family – he's possibly the biggest stuffed Monkey you've ever seen! This adorable giant monkey will make you smile, and bring a lot of joy to someone you love. He is so soft and huggable, with super cuddly mocha brown fur. Big Daddy has a silly monkey face, big hands and feet, long arms and legs and a floppy long tail. He's holding a giant plush red 'I love you' heart pillow(Will not be attached [sewed] to monkey), and is a wonderful gift for someone you love who loves monkeys.
How BIG is this Monkey?
Big Daddy is a life size stuffed animal friend, 58in tall (5' 0") and here is how that looks: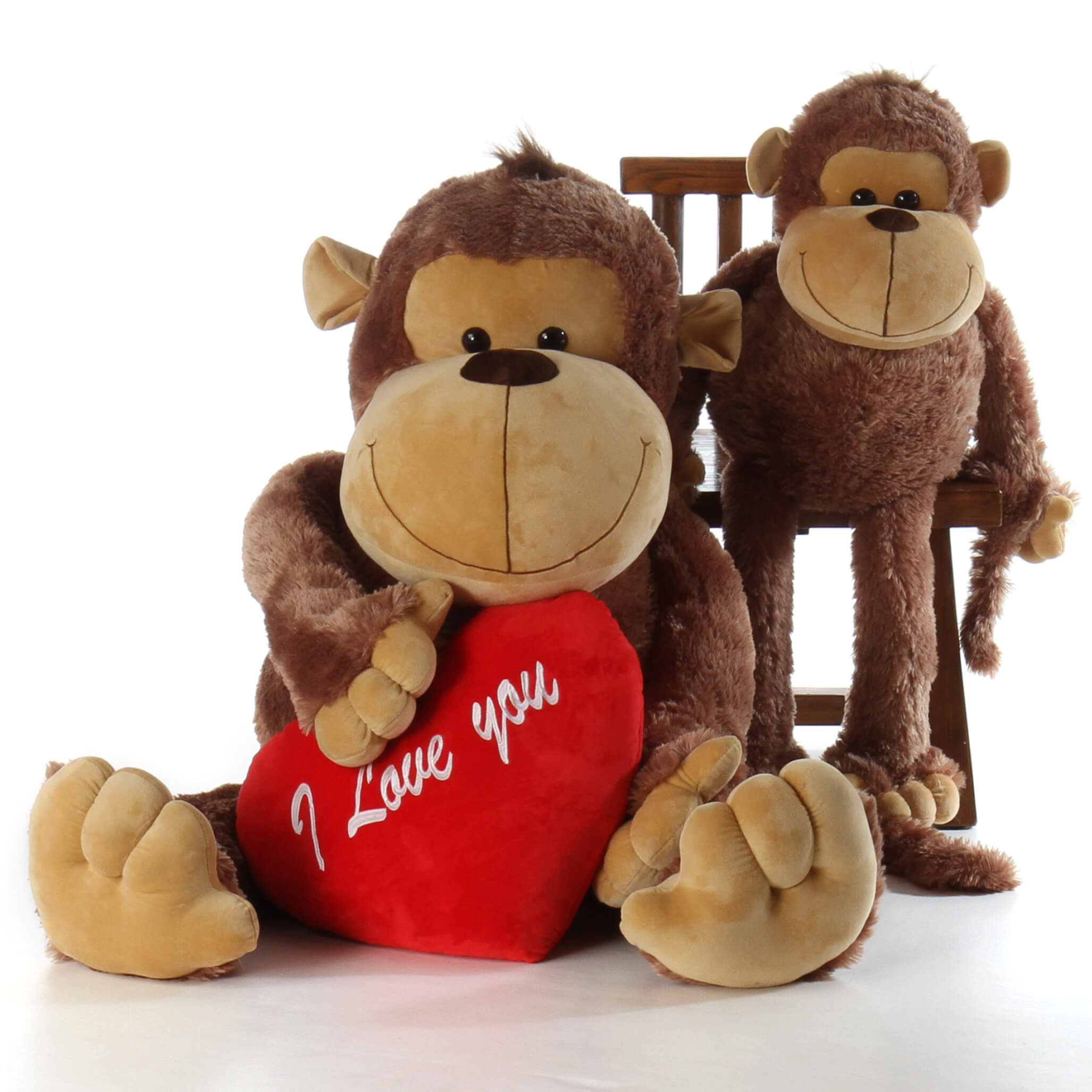 You Might Like:
Giant Teddy brand Gorillas
Each Giant Teddy bear is made of high quality plush fabric and passes all U.S. safety standards. Every Giant Teddy bear is guaranteed for 6 months, from the purchase date, against defects in material and workmanship. The accessories and props, including clocks & heart pillows, pictured alongside this item may not be included; they are shown for size and proportion comparison only. See product description for accessories, if any, included with this item
5ft Life Size Big Daddy Monkey Monkey Bio:Meet Big Daddy from our Monkey family, and possibly the biggest stuffed Monkey you've ever seen! And we aren't monkey-ing around (yes, we said...
6 Foot Tall Life Size Mocha Brown Giant Teddy Bear - Sunny Cuddles Give the gift of friendship and tenderness with a Giant Teddy 6 foot tall stuffed bear like Sunny Cuddles. An...