Life Size Pink Teddy Bear Bubble Gum 60in
Bear Bio:
Spread love and happiness with those in your life with our new Bubble Gum pink teddy bear shade. An extremely soft and huggable life size plush bear with a heavenly plush pink coat. Its chubby nose is made of smooth velveteen fabric; divinely soothing to the touch.This precious, well-proportioned life size teddy bear is stuffed with love in the USA and measures 60" in height. Bubble Gum is also one of our biggest teddy bears, available in smaller sizes in a kaleidoscope of colors too. She wears a dashing checkered bow that adds the right touch of whimsy to her design.
A wonderful collectible, as all Giant Teddy bears are!
How Big is this Giant Teddy?
Bubble Gum Cuddles is a life size bear 60in(5ft) tall and here is how that looks: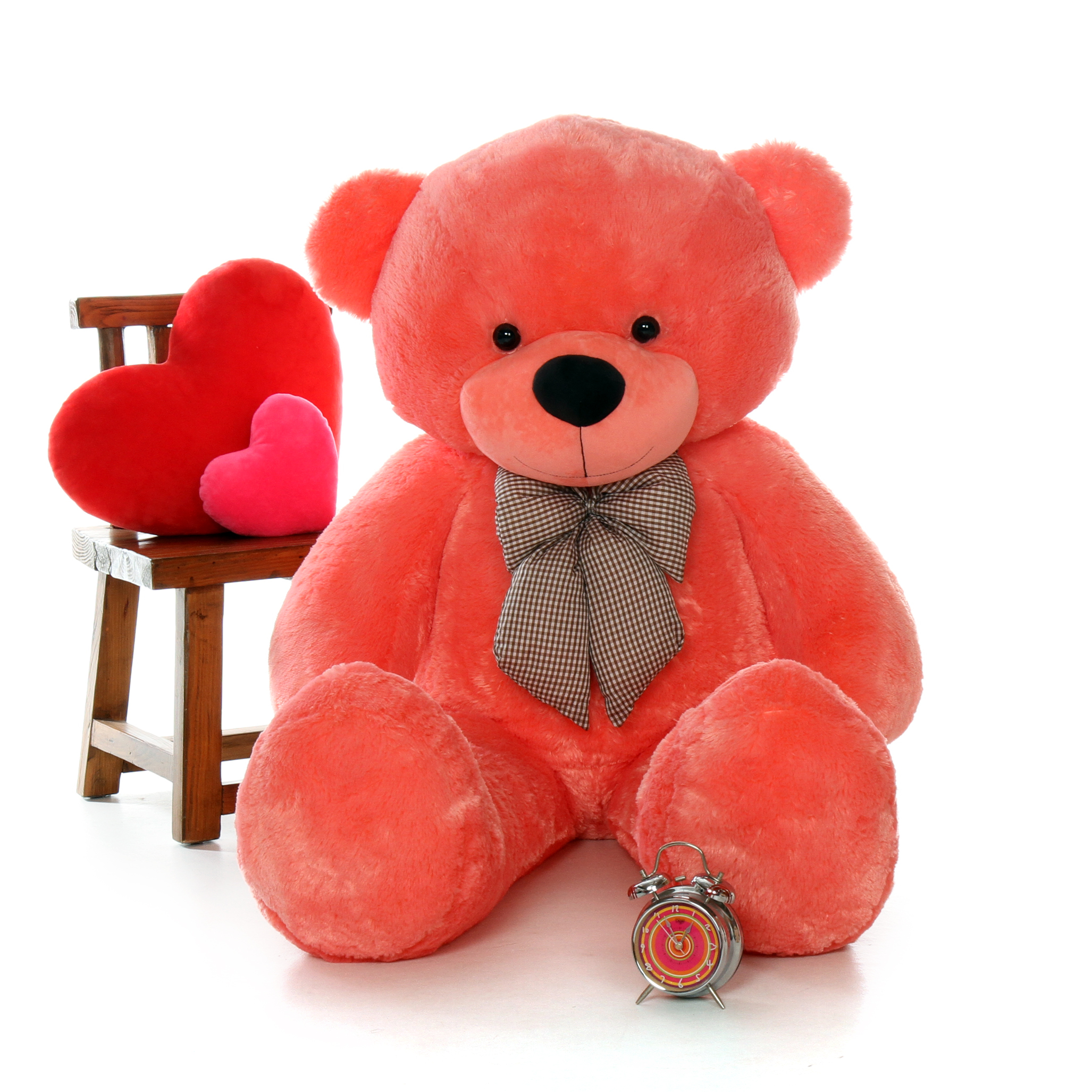 Warranty Information
Each Giant Teddy bear is made of high quality plush fabric and passes all U.S. safety standards. Every Giant Teddy bear is guaranteed for 6 months, from the purchase date, against defects in material and workmanship. The accessories and props, including clocks & heart pillows, pictured alongside this item may not be included; they are shown for size and proportion comparison only. See product description for accessories, if any, included with this item
Description

Life Size Pink Teddy Bear Bubble Gum 60in

Bear Bio:

Spread love and happiness with those in your life with our new Bubble Gum pink teddy bear shade. An extremely soft and huggable life size plush bear with a heavenly plush pink coat. Its chubby nose is made of smooth velveteen fabric; divinely soothing to the touch.This precious, well-proportioned life size teddy bear is stuffed with love in the USA and measures 60" in height. Bubble Gum is also one of our biggest teddy bears, available in smaller sizes in a kaleidoscope of colors too. She wears a dashing checkered bow that adds the right touch of whimsy to her design.

A wonderful collectible, as all Giant Teddy bears are!

How Big is this Giant Teddy?

Bubble Gum Cuddles is a life size bear 60in(5ft) tall and here is how that looks:

Warranty Information

Warranty Information

Each Giant Teddy bear is made of high quality plush fabric and passes all U.S. safety standards. Every Giant Teddy bear is guaranteed for 6 months, from the purchase date, against defects in material and workmanship. The accessories and props, including clocks & heart pillows, pictured alongside this item may not be included; they are shown for size and proportion comparison only. See product description for accessories, if any, included with this item

Reviews