Life Size Yellow Teddy Bear Daisy Cuddles 72in
Bear Bio:
A 6ft (72in) tall life size yellow teddy bear? Oh. Yeah. Meet Daisy Cuddles, our truly adorable teddy bear with hard to find super snuggly soft sunshine yellow fur. It is statistically impossible to frown (researchers have tried) when you look at a bear this big and bright, making her the perfect gift when you want to spread a lot of smiles and love. Daisy is so cuddly and cute, with a big smile on her face, a soft chubby brown nose, big brown eyes and wearing the Cuddles Family brown and white checked bow around her neck. Daisy Cuddles totally lives up to her name – you'll never meet another giant yellow teddy bear more huggable and sweet.
How BIG is this Giant Teddy?
Daisy Cuddles is a life size teddy bear 72in (6' 0") tall and here is how that looks:



Searching for other premium Yellow giant teddy bears sizes?
Click on our comparison chart below to meet the rest!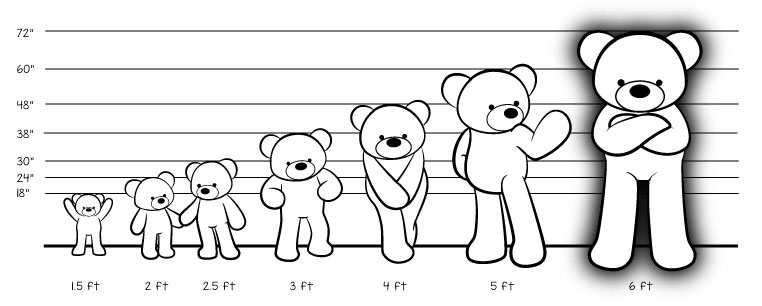 Check out our unique color collection of the Cuddles Family here.
Warranty Information
Each Giant Teddy bear is made of high quality plush fabric and passes all U.S. safety standards. Every Giant Teddy bear is guaranteed for 6 months, from the purchase date, against defects in material and workmanship. The accessories and props, including clocks & heart pillows, pictured alongside this item may not be included; they are shown for size and proportion comparison only. See product description for accessories, if any, included with this item
Description

Life Size Yellow Teddy Bear Daisy Cuddles 72in

Bear Bio:
A 6ft (72in) tall life size yellow teddy bear? Oh. Yeah. Meet Daisy Cuddles, our truly adorable teddy bear with hard to find super snuggly soft sunshine yellow fur. It is statistically impossible to frown (researchers have tried) when you look at a bear this big and bright, making her the perfect gift when you want to spread a lot of smiles and love. Daisy is so cuddly and cute, with a big smile on her face, a soft chubby brown nose, big brown eyes and wearing the Cuddles Family brown and white checked bow around her neck. Daisy Cuddles totally lives up to her name – you'll never meet another giant yellow teddy bear more huggable and sweet.

How BIG is this Giant Teddy?
Daisy Cuddles is a life size teddy bear 72in (6' 0") tall and here is how that looks:


Searching for other premium Yellow giant teddy bears sizes?
Click on our comparison chart below to meet the rest!

Check out our unique color collection of the Cuddles Family here.

Warranty Information

Warranty Information

Each Giant Teddy bear is made of high quality plush fabric and passes all U.S. safety standards. Every Giant Teddy bear is guaranteed for 6 months, from the purchase date, against defects in material and workmanship. The accessories and props, including clocks & heart pillows, pictured alongside this item may not be included; they are shown for size and proportion comparison only. See product description for accessories, if any, included with this item

Reviews