72in Life Size Teddy Bear Vanilla Cozy Cuddles with plush red Happy Valentine's Day I Love You Teddy heart pillow
Bear Bio:
Your sweetheart will swoon over this bigger-than-life 6ft (72in) teddy bear for Valentine's Day! Cozy Cuddles has luscious vanilla cream fur that is so soft, poets have written sonnets about it (well, we haven't verified that but maybe you can write one!) He is seriously huggable and so cute, with a big, soft black nose and warm brown eyes. Cozy is wearing a spiffy bow tie and he has a special heart pillow for the occasion.
The Heart Pillow:
Our beautiful, soft, plush and cuddly red heart pillow with "Happy Valentine's Day" embroidered into an intricate heart design on the front and "I love you" underneath comes with this bear to make your gift extra special.
**Heart pillow accessory is loosely attached (sewn) on. For easy removal cut the thread loosely sewn. **
Greeting Card
Don't forget the greeting card! Type up to 70 words in the "Card Message" box and we'll print it inside one of our custom Giant Teddy full size greeting cards and tuck it in the box with your bear.
How BIG is this Giant Teddy?
Cozy Cuddles is one of our biggest life size teddy bears 72in tall (6ft) and here is how that looks: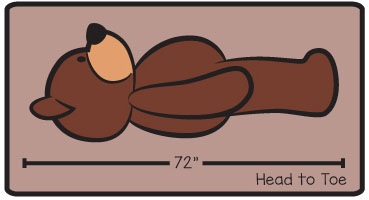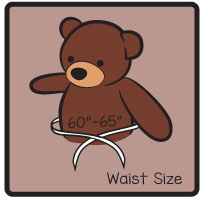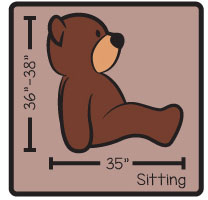 Warranty Information
Each Giant Teddy bear is made of high quality plush fabric and passes all U.S. safety standards. Every Giant Teddy bear is guaranteed for 6 months, from the purchase date, against defects in material and workmanship. The accessories and props, including clocks, chairs, and heart pillows, pictured alongside this item MAY NOT BE INCLUDED; they are shown for size and proportion comparison only. See product description for accessories, if any, included with this item
Description

72in Life Size Teddy Bear Vanilla Cozy Cuddles with plush red Happy Valentine's Day I Love You Teddy heart pillow

Bear Bio:
Your sweetheart will swoon over this bigger-than-life 6ft (72in) teddy bear for Valentine's Day! Cozy Cuddles has luscious vanilla cream fur that is so soft, poets have written sonnets about it (well, we haven't verified that but maybe you can write one!) He is seriously huggable and so cute, with a big, soft black nose and warm brown eyes. Cozy is wearing a spiffy bow tie and he has a special heart pillow for the occasion.

The Heart Pillow:
Our beautiful, soft, plush and cuddly red heart pillow with "Happy Valentine's Day" embroidered into an intricate heart design on the front and "I love you" underneath comes with this bear to make your gift extra special.

**Heart pillow accessory is loosely attached (sewn) on. For easy removal cut the thread loosely sewn. **

Greeting Card
Don't forget the greeting card! Type up to 70 words in the "Card Message" box and we'll print it inside one of our custom Giant Teddy full size greeting cards and tuck it in the box with your bear.

How BIG is this Giant Teddy?
Cozy Cuddles is one of our biggest life size teddy bears 72in tall (6ft) and here is how that looks:

Warranty Information

Warranty Information

Each Giant Teddy bear is made of high quality plush fabric and passes all U.S. safety standards. Every Giant Teddy bear is guaranteed for 6 months, from the purchase date, against defects in material and workmanship. The accessories and props, including clocks, chairs, and heart pillows, pictured alongside this item MAY NOT BE INCLUDED; they are shown for size and proportion comparison only. See product description for accessories, if any, included with this item

Reviews