Life Size Chocolate Brown Teddy Bear Brownie Cuddles 72in
Bear Bio:
Give the gift of friendship and tenderness with a Giant Teddy stuffed bear like Brownie Cuddles. Brownie is a giant teddy bear that stands at just over 6 Feet tall! An extremely soft and huggable bear with a heavenly plush chocolate brown coat. Its big brown eyes are filled with a lively twinkle, an expression of the love and kindness that extends to Brownie's new home! Its chubby nose is made of smooth velveteen fabric; divinely soothing to the touch.
This extra large teddy bear measures 72" inches to be exact. It wears a dashing checkered bow that adds the right touch of whimsy to its design. Being well constructed, durable, made with child safe fabrics and meeting or exceeding all US safety standards guarantees that Brownie Cuddles is perfect for snuggling! A wonderful collectible, as all Giant Teddy bears are!
How BIG is this Giant Teddy?
Brownie Cuddles is a life size teddy bear 72in (6' 0") tall and here is how that looks: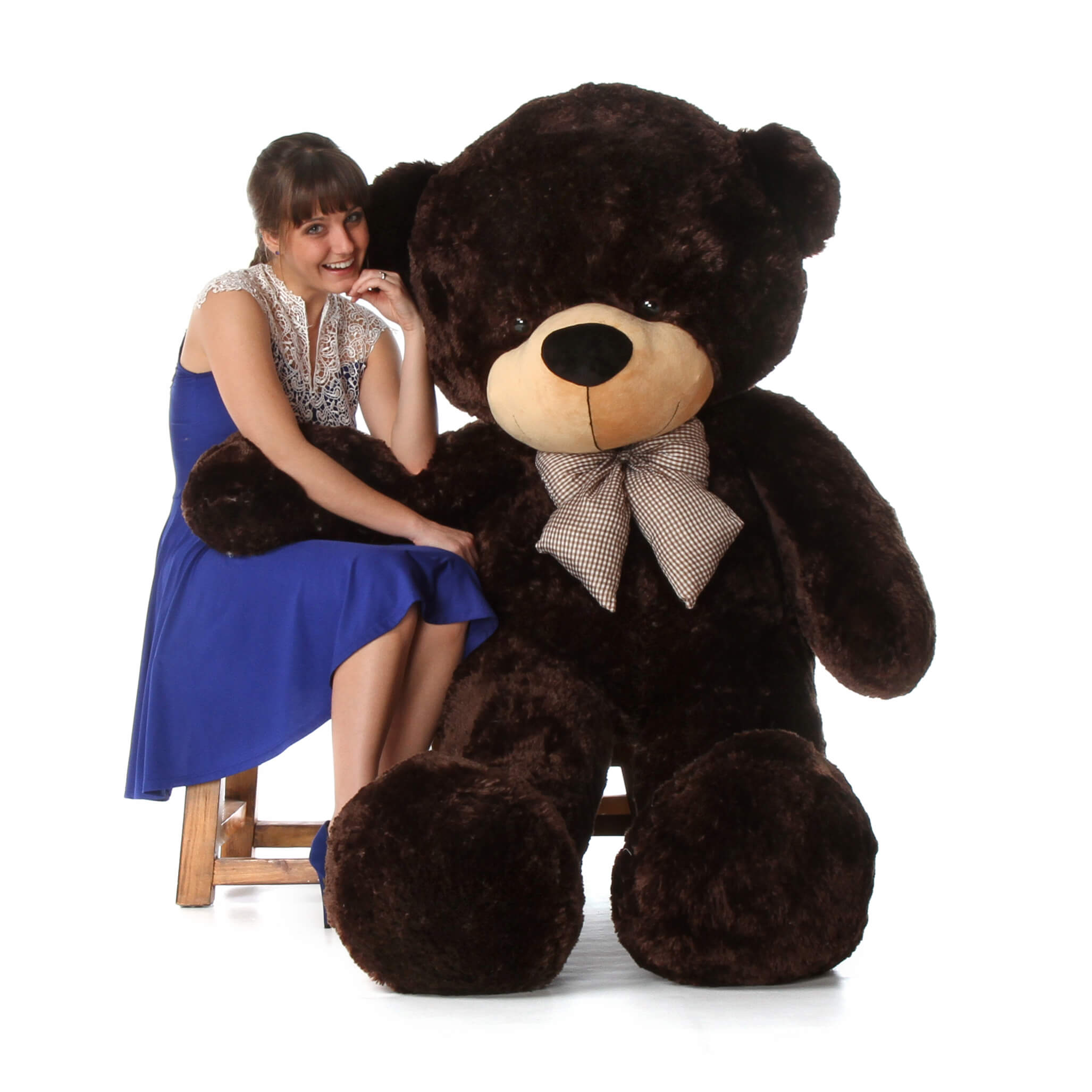 Brownie Cuddles Chocolate Brown Teddy Bear also comes in these sizes: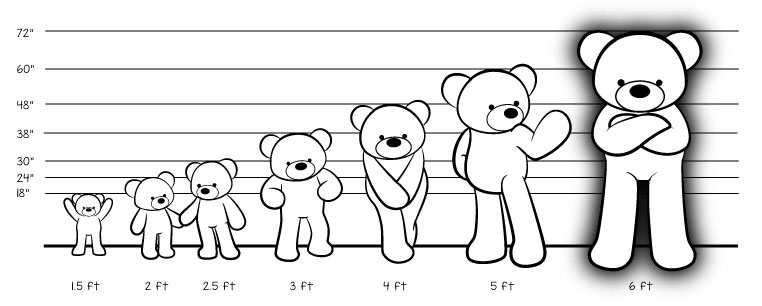 Warranty Information
Each Giant Teddy bear is made of high quality plush fabric and passes all U.S. safety standards. Every Giant Teddy bear is guaranteed for 6 months, from the purchase date, against defects in material and workmanship. The accessories and props, including clocks & heart pillows, pictured alongside this item may not be included; they are shown for size and proportion comparison only. See product description for accessories, if any, included with this item
Description

Life Size Chocolate Brown Teddy Bear Brownie Cuddles 72in

Bear Bio:
Give the gift of friendship and tenderness with a Giant Teddy stuffed bear like Brownie Cuddles. Brownie is a giant teddy bear that stands at just over 6 Feet tall! An extremely soft and huggable bear with a heavenly plush chocolate brown coat. Its big brown eyes are filled with a lively twinkle, an expression of the love and kindness that extends to Brownie's new home! Its chubby nose is made of smooth velveteen fabric; divinely soothing to the touch.

This extra large teddy bear measures 72" inches to be exact. It wears a dashing checkered bow that adds the right touch of whimsy to its design. Being well constructed, durable, made with child safe fabrics and meeting or exceeding all US safety standards guarantees that Brownie Cuddles is perfect for snuggling! A wonderful collectible, as all Giant Teddy bears are!

How BIG is this Giant Teddy?
Brownie Cuddles is a life size teddy bear 72in (6' 0") tall and here is how that looks:


Brownie Cuddles Chocolate Brown Teddy Bear also comes in these sizes:


Warranty Information

Warranty Information

Each Giant Teddy bear is made of high quality plush fabric and passes all U.S. safety standards. Every Giant Teddy bear is guaranteed for 6 months, from the purchase date, against defects in material and workmanship. The accessories and props, including clocks & heart pillows, pictured alongside this item may not be included; they are shown for size and proportion comparison only. See product description for accessories, if any, included with this item

Reviews

Reviews

Came in just as advertised. She loved it, the card was a perfect touch. Highly recommend.

I have been in love with someone for a while now, but we've been having to go long distance, and today I got this bear in the mail and I nearly cried as I pulled it out of the package and found this humungous brown cuddle buddy. The love of my life told me that he got it to hold his place when I need to be holding him, and every time I look at this bear, a giant grin breaks out onto my face and I feel overjoyed and so very loved. I came here just to tell anyone who's looking at this bear and thinking about getting it for their special someone, I promise you that they will be so very happy and will love it almost as much as they love you. <3 This has made my month, at the very least

Bought for my daughter's birthday. She absolutly loves it. She sleeps with it on her bed every night. The bear is so big and fluffy she uses it as her pillows lol. She likes it so much, she said she's going to tale him to college with her, when she gets to that age :-)

The elementary school (Bret Harte) where my wife teaches has had a much smaller bear located in its library for several years. The bear was there for the young students to hug when they needed a hug. Through the years the bear was hugged out, and now the kids have a new huge bear to hug. We did explain to the kids that Santa Claus delivered the bear early because he wanted to hug Santa Claus constantly, and kept grabbing the reindeer reins while yelling into Santa's ears that he had to get to Bret Harte School because the kids were waiting for him.

I bought this bear as a gift for Valentine's day for my girlfriend. I ordered the bear on Wednesday and giantteddy.com delivered the bear same day and received it two days later before Feb 13th as guaranteed. She loves the bear and it seems her nieces and kid sister love it more. They often run off with it and she has to remind them the bear belongs to her. I was happy about the awesome quality of the bear the sheer height and size of it. The bear is super soft and "cuddly" as my girlfriend would say. The price of the bear was awesome and seeing the smile on her face was more awesome. I will definitely buy another bear for her and create a collection :)