Buni Kubu is the caring and loving mother of the Kubu stuffed hippo pod. Her children Kili, Wami, and Tali, try their best to tire her out, but she is always there to keep them safe and most importantly, not bothering the other animals in the river. All the little stuffed hippo calves of the river call Buni "Mama" because she cares and loves every hippo with all her stuffed hippo heart. Buni is the second biggest member of the Kubu family. She stands at 3 1/2 feet and sits down at just under 2 1/2 feet. She is a pleasantly plump plush hippo that fits nicely into any room.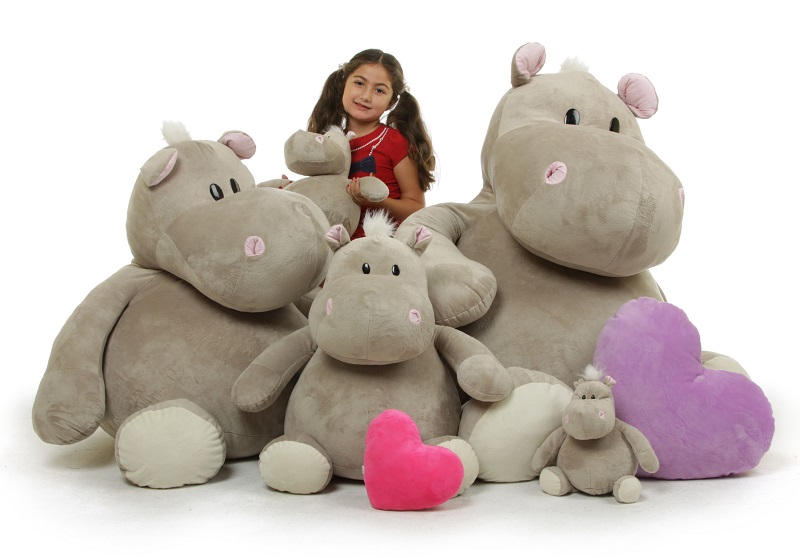 Each Giant Teddy bear is made of high quality plush fabric and passes all U.S. safety standards. Every Giant Teddy bear is guaranteed for 6 months, from the purchase date, against defects in material and workmanship. The accessories and props, including clocks & heart pillows, pictured alongside this item may not be included; they are shown for size and proportion comparison only. See product description for accessories, if any, included with this item
Big Bari is the brave father of the Kubu stuffed hippo pod, and the biggest stuffed hippo in the African savanna. Standing at 54 inches (4 1/2 feet) tall and sitting at 3 feet tall...
Sweetheart is the most lovable plush hippo that you will ever meet. She is a stuffed hippo that measures 29 inches. Lovable and extra soft, Sweetheart will be that unique Valentine's Day...