Mocha Brown Life Size Giant Teddy Bear Cuddles – Choose Your Size!
When you give a gift to someone special, you want to make sure it's memorable and meaningful.
What could be better than a giant teddy bear full of cuddly softness to show you care? A bear with a custom photo t-shirt of course! Spread love and happiness with those in your life with our life size teddy bear in a range of size with your choice of uploaded photo for an extra special touch. With choices of sizes including 2 foot or 4-foot options ideal for smaller gifts or children, as well as our life-size 5 foot or 6-foot options, you can find the perfect sized bear for this special gift. An extremely soft and huggable giant plush bear with a heavenly plush coat, this sweet bear is ready for a big bear hug and to bring a smile to someone's face with just one look. Our bears are made with a focus on softness throughout and it shows with every touch. Our bear's chubby nose is made of smooth velveteen fabric which is divinely soothing to the touch. The fur is always soft to the touch and the bear is perfectly stuffed for a soft hug anyone will enjoy. This precious, well-proportioned life size teddy bear is stuffed with love in the U.S.A. for a gift you can give with confidence. With the ability to upload a specialized photo and customizable text of up to 5 words underneath the picture, you can create a truly unique gift sure to brighten someone's day. Order now and give this special gift to a loved one today!
About Our Giant Teddy Bears
Top of the Line Quality Premium Long Fur that is super snugly soft!

Fully Stuffed with never recycled new Clump Resistant Stuffing making for the Best HUGS!

All Bears are Shipped out from Sunny California
About Our Personalized Red Heart Shirt
Shirts are white and removable.

Upload your photo as a JPEG, PNG, or PDF. Please note: We will print your t-shirt exactly how we receive it.

We'll print up to 5 words on the shirt under the design.

Personalized photo t-shirts may require up to 2 days of processing time.

Giant Teddy will not print or process orders with any inappropriate material such as text or images for privacy reason.
Cuddles Teddy Bear also comes in a variety of sizes: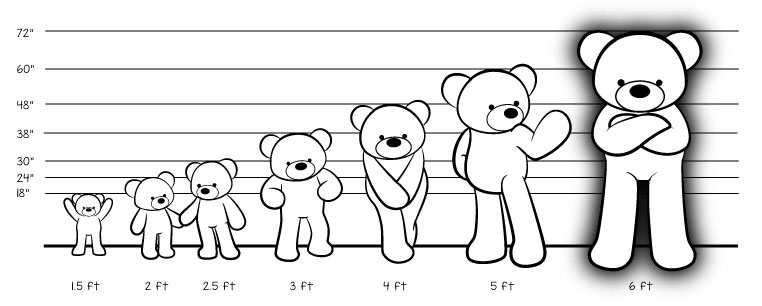 Additional Information
All stuffed animals crafted by Giant Teddy are stuffed to order at our headquarters in Anaheim, California. We design all aspects of the stuffed animals, including the stitching of the expressions on the face, color of the plush fur, and even precise arrangement of the paw pads. Our designs are executed and produced exactly in collaboration with partners in China, from where we source the luxe shells. New polyester filling is sourced locally in the US, then processed into premium, fluffy Giant Teddy stuffing by our technicians in Anaheim. We stuff the bears, finish them by hand, and inspect each one for perfection before shipping. Our bears are guaranteed to last you a lifetime.
All Giant Teddy bears exceed U.S. child safety standards.
The accessories and props, including clocks & heart pillows, pictured alongside this item may not be included; they are shown for size and proportion comparison only. See product description for accessories, if any, included with this item.
Remove any unattached accessories, all tags and plastic loops before giving to a child younger than 3 years of age
Description

Mocha Brown Life Size Giant Teddy Bear Cuddles – Choose Your Size!

When you give a gift to someone special, you want to make sure it's memorable and meaningful.
What could be better than a giant teddy bear full of cuddly softness to show you care? A bear with a custom photo t-shirt of course! Spread love and happiness with those in your life with our life size teddy bear in a range of size with your choice of uploaded photo for an extra special touch. With choices of sizes including 2 foot or 4-foot options ideal for smaller gifts or children, as well as our life-size 5 foot or 6-foot options, you can find the perfect sized bear for this special gift. An extremely soft and huggable giant plush bear with a heavenly plush coat, this sweet bear is ready for a big bear hug and to bring a smile to someone's face with just one look. Our bears are made with a focus on softness throughout and it shows with every touch. Our bear's chubby nose is made of smooth velveteen fabric which is divinely soothing to the touch. The fur is always soft to the touch and the bear is perfectly stuffed for a soft hug anyone will enjoy. This precious, well-proportioned life size teddy bear is stuffed with love in the U.S.A. for a gift you can give with confidence. With the ability to upload a specialized photo and customizable text of up to 5 words underneath the picture, you can create a truly unique gift sure to brighten someone's day. Order now and give this special gift to a loved one today!

About Our Giant Teddy Bears

Top of the Line Quality Premium Long Fur that is super snugly soft!

Fully Stuffed with never recycled new Clump Resistant Stuffing making for the Best HUGS!

All Bears are Shipped out from Sunny California

About Our Personalized Red Heart Shirt

Shirts are white and removable.

Upload your photo as a JPEG, PNG, or PDF. Please note: We will print your t-shirt exactly how we receive it.

We'll print up to 5 words on the shirt under the design.

Personalized photo t-shirts may require up to 2 days of processing time.

Giant Teddy will not print or process orders with any inappropriate material such as text or images for privacy reason.

Cuddles Teddy Bear also comes in a variety of sizes:

Additional Information

Additional Information

All stuffed animals crafted by Giant Teddy are stuffed to order at our headquarters in Anaheim, California. We design all aspects of the stuffed animals, including the stitching of the expressions on the face, color of the plush fur, and even precise arrangement of the paw pads. Our designs are executed and produced exactly in collaboration with partners in China, from where we source the luxe shells. New polyester filling is sourced locally in the US, then processed into premium, fluffy Giant Teddy stuffing by our technicians in Anaheim. We stuff the bears, finish them by hand, and inspect each one for perfection before shipping. Our bears are guaranteed to last you a lifetime.

All Giant Teddy bears exceed U.S. child safety standards.

The accessories and props, including clocks & heart pillows, pictured alongside this item may not be included; they are shown for size and proportion comparison only. See product description for accessories, if any, included with this item.

Remove any unattached accessories, all tags and plastic loops before giving to a child younger than 3 years of age