Adorable Koalas with Red I Love You Heart Pillow – Your Choice 20in, 34in, 45in
Choose the size koala you want – 20in, 34in (almost 3ft) or 45in (almost 4ft!) and we'll include a big red plush heart pillow with "I love you" embroidered on the front. This is the perfect cuddly gift for someone you love, at Valentine's Day or anytime!
*Use menu to select Koala size
All About Our Cuddly Koalas
Super Soft Dark Grey Fur
Huggable & Cute with Adorable Koala Features
You Choose the koala size you want: 20in, 34in or 45in
Big plush red heart with "I Love You" embroidered on it is included with your koala
**Heart pillow accessory is loosely attached (sewn) on. For easy removal cut the thread loosely sewn. **
How BIG is this Giant Teddy Brand Stuffed Animal Friend?
You can view our difference in sizes below!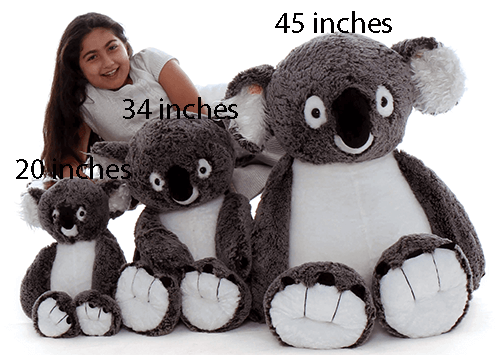 Warranty Information
Each Giant Teddy bear is made of high quality plush fabric and passes all U.S. safety standards. Every Giant Teddy bear is guaranteed for 6 months, from the purchase date, against defects in material and workmanship. The accessories and props, including clocks, chairs, and heart pillows, pictured alongside this item MAY NOT BE INCLUDED; they are shown for size and proportion comparison only. See product description for accessories, if any, included with this item
Description

Adorable Koalas with Red I Love You Heart Pillow – Your Choice 20in, 34in, 45in

Choose the size koala you want – 20in, 34in (almost 3ft) or 45in (almost 4ft!) and we'll include a big red plush heart pillow with "I love you" embroidered on the front. This is the perfect cuddly gift for someone you love, at Valentine's Day or anytime!

*Use menu to select Koala size

All About Our Cuddly Koalas

Super Soft Dark Grey Fur

Huggable & Cute with Adorable Koala Features

You Choose the koala size you want: 20in, 34in or 45in

Big plush red heart with "I Love You" embroidered on it is included with your koala

**Heart pillow accessory is loosely attached (sewn) on. For easy removal cut the thread loosely sewn. **

How BIG is this Giant Teddy Brand Stuffed Animal Friend?

You can view our difference in sizes below!

Warranty Information

Warranty Information

Each Giant Teddy bear is made of high quality plush fabric and passes all U.S. safety standards. Every Giant Teddy bear is guaranteed for 6 months, from the purchase date, against defects in material and workmanship. The accessories and props, including clocks, chairs, and heart pillows, pictured alongside this item MAY NOT BE INCLUDED; they are shown for size and proportion comparison only. See product description for accessories, if any, included with this item

Reviews