Life Size Blue Teddy Bear Happy Cuddles 60in
Bear Bio:
"The best things in life aren't things". They're teddy bears! Nobody can deny that a super soft Giant Teddy brand teddy bear, like Happy Cuddles, brings fascination and love to his new home! Happy has sky blue fur that feels extra smooth and fluffy. Happy, a Huge Giant Teddy brand teddy bear that will bring great joy to his new companion because he is stuffed with love ! Happy has charming, big brown eyes, filled with a happy twinkle and his kissable teddy bear nose is made of cuddly velveteen fabric that's oh, so soft!
Happy measures 60" in height and is also available in larger and smaller sizes in a bold assortment of colors. He arrives wearing a special checkered bow; ready for a magical teddy bear hug! Being well constructed, durable, made with child safe fabrics and meeting or exceeding all US safety standards guarantees that Happy Cuddles is perfect for snuggling! He makes the perfect gift for all ages!
How BIG is this Giant Teddy?
Happy Cuddles is a life size teddy bear 60in (5') tall and here is how that looks: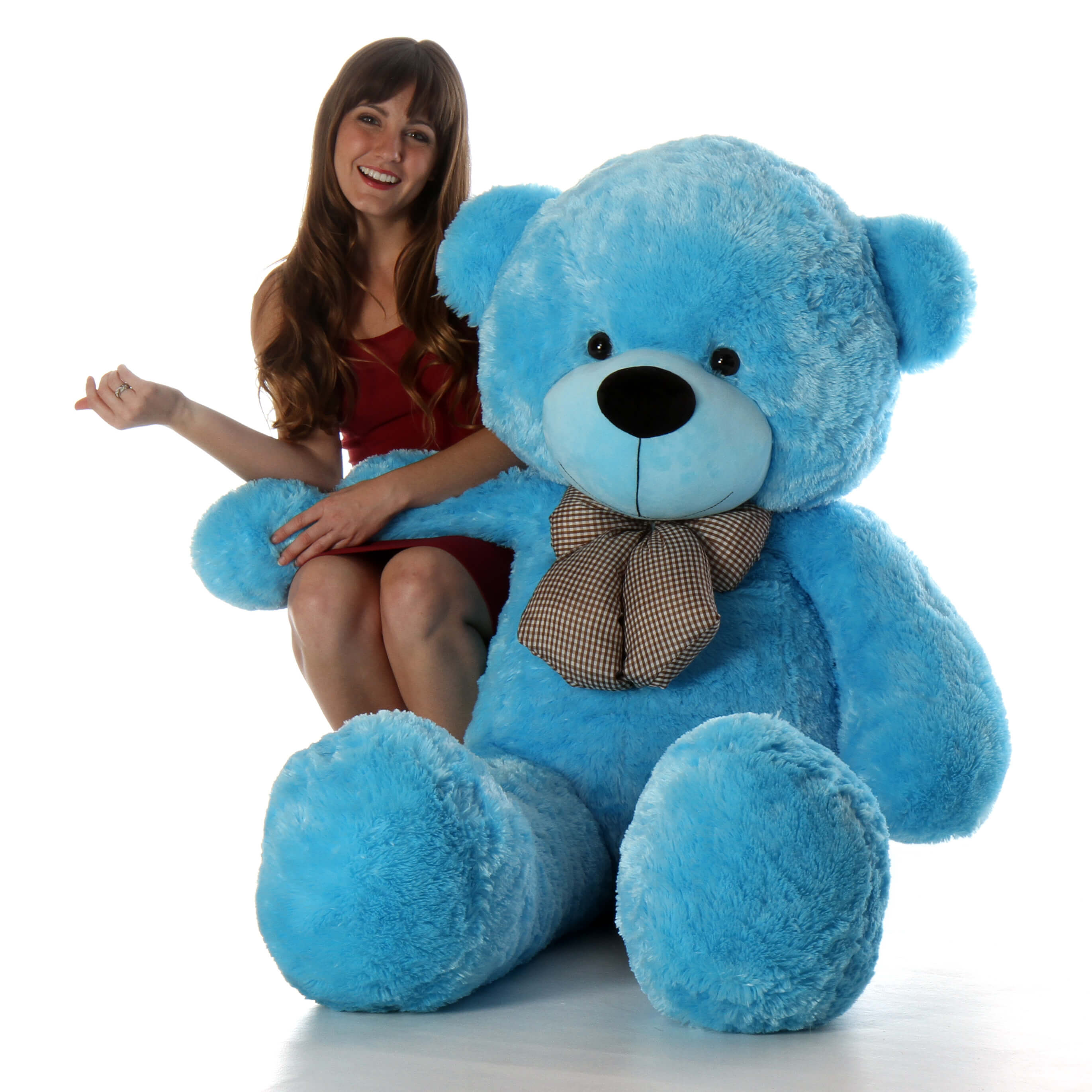 Happy Cuddles Blue Teddy Bear also comes in these sizes: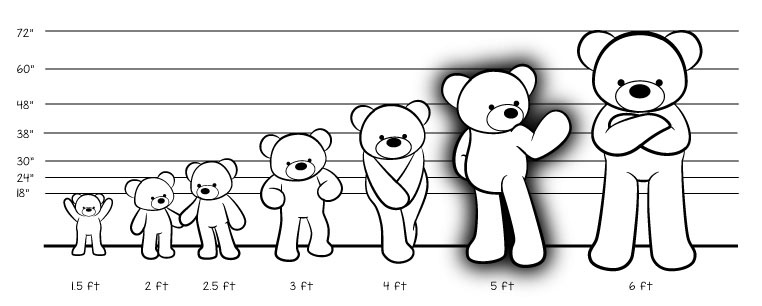 Warranty Information
Each Giant Teddy bear is made of high quality plush fabric and passes all U.S. safety standards. Every Giant Teddy bear is guaranteed for 6 months, from the purchase date, against defects in material and workmanship. The accessories and props, including clocks & heart pillows, pictured alongside this item may not be included; they are shown for size and proportion comparison only. See product description for accessories, if any, included with this item
Description

Life Size Blue Teddy Bear Happy Cuddles 60in

Bear Bio:
"The best things in life aren't things". They're teddy bears! Nobody can deny that a super soft Giant Teddy brand teddy bear, like Happy Cuddles, brings fascination and love to his new home! Happy has sky blue fur that feels extra smooth and fluffy. Happy, a Huge Giant Teddy brand teddy bear that will bring great joy to his new companion because he is stuffed with love ! Happy has charming, big brown eyes, filled with a happy twinkle and his kissable teddy bear nose is made of cuddly velveteen fabric that's oh, so soft!

Happy measures 60" in height and is also available in larger and smaller sizes in a bold assortment of colors. He arrives wearing a special checkered bow; ready for a magical teddy bear hug! Being well constructed, durable, made with child safe fabrics and meeting or exceeding all US safety standards guarantees that Happy Cuddles is perfect for snuggling! He makes the perfect gift for all ages!

How BIG is this Giant Teddy?
Happy Cuddles is a life size teddy bear 60in (5') tall and here is how that looks:



Happy Cuddles Blue Teddy Bear also comes in these sizes:



Warranty Information

Warranty Information

Each Giant Teddy bear is made of high quality plush fabric and passes all U.S. safety standards. Every Giant Teddy bear is guaranteed for 6 months, from the purchase date, against defects in material and workmanship. The accessories and props, including clocks & heart pillows, pictured alongside this item may not be included; they are shown for size and proportion comparison only. See product description for accessories, if any, included with this item

Reviews

Reviews

My niece asked for one for her birthday I found it online I am very happy to say she loves it and the one thing that I am most happy about is made in the USA

The 5 Foot tall Bear was the perfect gift. It is much better quality than I expected and ultra soft material. It will be the perfect retirement present for a very special employee.

Great bear good quality I was happy and most importantly she was happy

Awesome - my grandson loves it!

Came within 5 days of ordering it in Alabama. My daughter loved it. .. when I seen the size of the box I thought oh crap i.ve been screwed. But it was vacuum packed. Turned out awesome. Thanks david