Kili Kubu is the oldest plush hippo calf and big sister of the Kubu stuffed hippo pod. She is about 7 years old, and the smartest student in stuffed hippo school. She tries her best to guide her younger brother and sister with her infinite 7 year old wisdom, but she knows that everything goes through one ear and out the other with them, so she watches over them, just like her mother. Kili isn't the smallest or biggest stuffed hippo in the Kubu family. She is right in the middle, standing at just under 2 1/2 feet and sitting just over 1 1/2 feet tall. Kili is the perfect plush hippo toy small enough to bring into bed and big enough to play with during the day.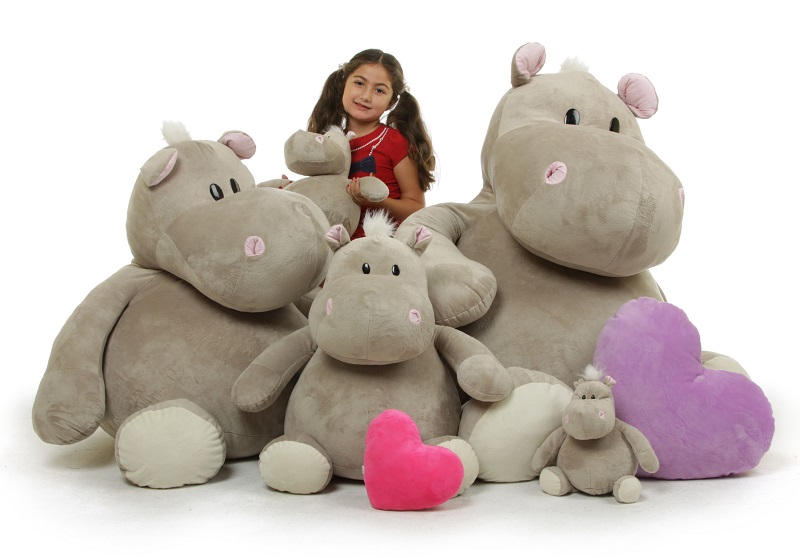 Additional Information
All stuffed animals crafted by Giant Teddy are stuffed to order at our headquarters in Anaheim, California. We design all aspects of the stuffed animals, including the stitching of the expressions on the face, color of the plush fur, and even precise arrangement of the paw pads. Our designs are executed and produced exactly in collaboration with partners in China, from where we source the luxe shells. New polyester filling is sourced locally in the US, then processed into premium, fluffy Giant Teddy stuffing by our technicians in Anaheim. We stuff the bears, finish them by hand, and inspect each one for perfection before shipping. Our bears are guaranteed to last you a lifetime.
All Giant Teddy bears exceed U.S. child safety standards.
The accessories and props, including clocks & heart pillows, pictured alongside this item may not be included; they are shown for size and proportion comparison only. See product description for accessories, if any, included with this item.
Remove any unattached accessories, all tags and plastic loops before giving to a child younger than 3 years of age
Description

Kili Kubu is the oldest plush hippo calf and big sister of the Kubu stuffed hippo pod. She is about 7 years old, and the smartest student in stuffed hippo school. She tries her best to guide her younger brother and sister with her infinite 7 year old wisdom, but she knows that everything goes through one ear and out the other with them, so she watches over them, just like her mother. Kili isn't the smallest or biggest stuffed hippo in the Kubu family. She is right in the middle, standing at just under 2 1/2 feet and sitting just over 1 1/2 feet tall. Kili is the perfect plush hippo toy small enough to bring into bed and big enough to play with during the day.

Additional Information

Additional Information

All stuffed animals crafted by Giant Teddy are stuffed to order at our headquarters in Anaheim, California. We design all aspects of the stuffed animals, including the stitching of the expressions on the face, color of the plush fur, and even precise arrangement of the paw pads. Our designs are executed and produced exactly in collaboration with partners in China, from where we source the luxe shells. New polyester filling is sourced locally in the US, then processed into premium, fluffy Giant Teddy stuffing by our technicians in Anaheim. We stuff the bears, finish them by hand, and inspect each one for perfection before shipping. Our bears are guaranteed to last you a lifetime.

All Giant Teddy bears exceed U.S. child safety standards.

The accessories and props, including clocks & heart pillows, pictured alongside this item may not be included; they are shown for size and proportion comparison only. See product description for accessories, if any, included with this item.

Remove any unattached accessories, all tags and plastic loops before giving to a child younger than 3 years of age

Reviews

Reviews

I give a large stuffed animal to my grandbabies on the day they are born. I was specifically looking for a large cute hippo for my granddaughter due any day and I found this one. It arrived in just three days and is cuter than the picture. I added a pink bow to her scruff of hair and now it is absolutely adorable!

At Thanksgiving my husband, who's 60, he starting singing "I want a hippopotamus for Christmas" My niece thought that was the funniest thing and decided "Prince needed one, but not a real one cause those are hard to take care of you know." It left her mind after a few days and resurfaced a week before Christmas. I did a search and found Kili. Just what we needed! Although I was all for ordering the largest one, but wasn't quiet sure how my husband was going to react. We personalized the card, had the big box all wrapped up and under the tree. My niece fell in love with it and so did her uncle. Kili is so super soft and cuddly. She's found her home up on top of the bed. Our 3 labs also love her and try to sneak her out and about on occasion. I'm so glad I ordered this, it was delivered on Christmas Eve morning and was the hit of our Christmas Eve gifts. Who knows, we may end up ordering Kubu.

Such a wonderful product. My mom has always wanted a hippo so when we gave her one for Christmas, she broke down into tears! Worth the money and the quality was great