Write a Review (Kili Kubu 29 inch Oldest Daughter Of The Kubu Stuffed Hippo Pod, A Sweet Plush Hippo!)
Kili Kubu is the oldest plush hippo calf and big sister of the Kubu stuffed hippo pod. She is about 7 years old, and the smartest student in stuffed hippo school. Kili loves her pink Kubu family hoodiet, she wears it all the time. She tries her best to guide her younger brother and sister with her infinite 7 year old wisdom, but she knows that everything goes through one ear and out the other with them, so she watches over them, just like her mother. Kili isn't the smallest or biggest stuffed hippo in the Kubu family. She is right in the middle, standing at just under 2 1/2 feet and sitting just over 1 1/2 feet tall. Kili is the perfect plush hippo toy small enough to bring into bed and big enough to play with during the day.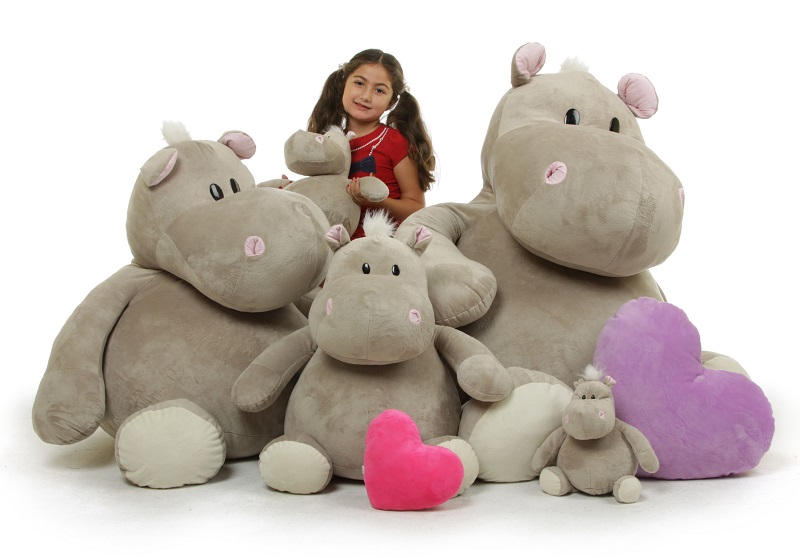 Each Giant Teddy bear is made of high quality plush fabric and passes all U.S. safety standards. Every Giant Teddy bear is guaranteed for 6 months, from the purchase date, against defects in material and workmanship. The accessories and props, including clocks & heart pillows, pictured alongside this item may not be included; they are shown for size and proportion comparison only. See product description for accessories, if any, included with this item
Big Bari is the brave father of the Kubu stuffed hippo pod, and the biggest stuffed hippo in the African savanna. Standing at 54 inches (4 1/2 feet) tall and sitting at 3 feet tall...
Sweetheart is the most lovable plush hippo that you will ever meet. She is a stuffed hippo that measures 29 inches. Lovable and extra soft, Sweetheart will be that unique Valentine's Day...