3ft Red Graduation Teddy Bear with Cap, Diploma and Bow Tie
You did it! Graduation is a major accomplishment – some might say GIANT – and we know just how to celebrate with a huge 35in Graduation Teddy Bear from Giant Teddy. Randy Shags is at the head of the class, wearing an adorable graduation cap perfectly sized just for him, holding his diploma and dressed to impress in a snazzy black bow tie. Randy is a sitting style teddy bear, and he has the most beautiful true red fur you've ever seen - it is so soft and snuggly, beyond anything you can imagine until you get to hug him yourself. He has a big, soft, brown nose and a big smile on his cute face as he thinks about the bright future ahead after graduation.
We know a huge life size teddy bear graduation gift like Randy Shags will be a fun reminder of all the achievements and awesome moments your graduate has had during this special moment in life, with cuddly bear hugs that only a Giant Teddy can give.
How BIG is this Giant Teddy?
Randy Shags is a huge life size teddy bear 36in tall (3' 0") and here is how that looks: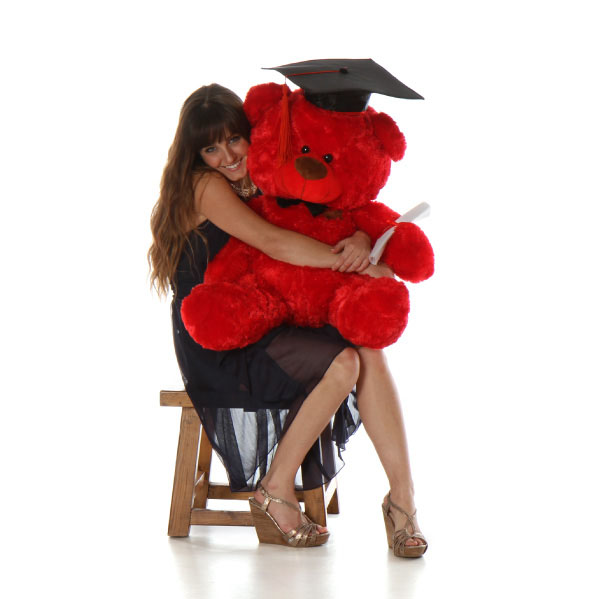 Click to check out other special occasion Bears!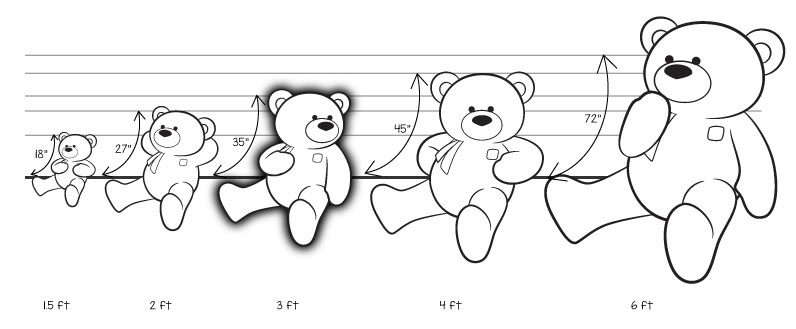 Warranty Information
Each Giant Teddy bear is made of high quality plush fabric and passes all U.S. safety standards. Every Giant Teddy bear is guaranteed for 6 months, from the purchase date, against defects in material and workmanship. The accessories and props, including clocks & heart pillows, pictured alongside this item may not be included; they are shown for size and proportion comparison only. See product description for accessories, if any, included with this item
Description

3ft Red Graduation Teddy Bear with Cap, Diploma and Bow Tie

You did it! Graduation is a major accomplishment – some might say GIANT – and we know just how to celebrate with a huge 35in Graduation Teddy Bear from Giant Teddy. Randy Shags is at the head of the class, wearing an adorable graduation cap perfectly sized just for him, holding his diploma and dressed to impress in a snazzy black bow tie. Randy is a sitting style teddy bear, and he has the most beautiful true red fur you've ever seen - it is so soft and snuggly, beyond anything you can imagine until you get to hug him yourself. He has a big, soft, brown nose and a big smile on his cute face as he thinks about the bright future ahead after graduation.

We know a huge life size teddy bear graduation gift like Randy Shags will be a fun reminder of all the achievements and awesome moments your graduate has had during this special moment in life, with cuddly bear hugs that only a Giant Teddy can give.

How BIG is this Giant Teddy?
Randy Shags is a huge life size teddy bear 36in tall (3' 0") and here is how that looks:


Click to check out other special occasion Bears!



Warranty Information

Warranty Information

Each Giant Teddy bear is made of high quality plush fabric and passes all U.S. safety standards. Every Giant Teddy bear is guaranteed for 6 months, from the purchase date, against defects in material and workmanship. The accessories and props, including clocks & heart pillows, pictured alongside this item may not be included; they are shown for size and proportion comparison only. See product description for accessories, if any, included with this item

Reviews