Life Size 70in amber Honey Tubs Teddy Bear
Bear Bio:
Just go ahead and say wow right now. You're going to anyway as soon as you meet our unbelievably huge life size 70in teddy bear Honey Tubs. Honey has beautiful, soft, amber brown fur that is so snuggly and huggable. Honey is from our Tubs Teddy Bear Family, and has a sweet old-fashioned appeal with a lanky upper body, long arms, tubby tummy, big round feet and the sweetest face you've ever seen. Honey is a sitting style of teddy bear. Everyone falls in love with Honey Tubs, and in this amazing enormous size, your gift will be remembered forever!
How BIG is this Giant Teddy?
Honey Tubs is an enormous life size teddy bear, 70in (5' 10") tall and here is how that looks: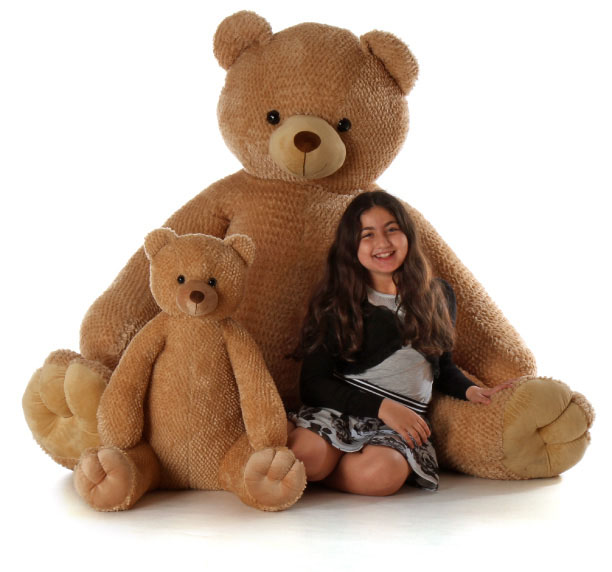 Searching for other premium Giant teddy bears sizes?
click on our comparison chart to meet the rest!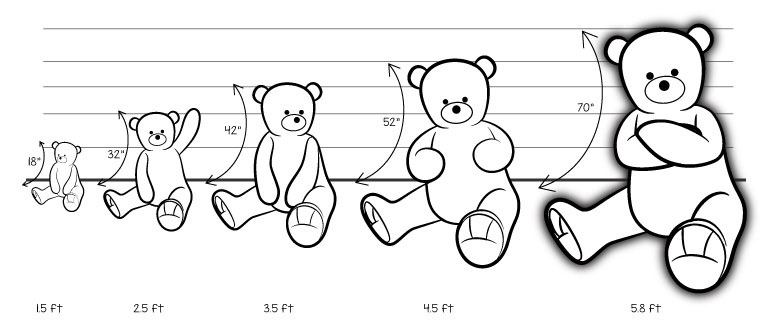 Giant Teddy has more Bear Family Styles, Colors and Sizes than anyone.
Which bear is calling your name?
Warranty Information
Each Giant Teddy bear is made of high quality plush fabric and passes all U.S. safety standards. Every Giant Teddy bear is guaranteed for 6 months, from the purchase date, against defects in material and workmanship. The accessories and props, including clocks & heart pillows, pictured alongside this item may not be included; they are shown for size and proportion comparison only. See product description for accessories, if any, included with this item
Description

Life Size 70in amber Honey Tubs Teddy Bear
Bear Bio:
Just go ahead and say wow right now. You're going to anyway as soon as you meet our unbelievably huge life size 70in teddy bear Honey Tubs. Honey has beautiful, soft, amber brown fur that is so snuggly and huggable. Honey is from our Tubs Teddy Bear Family, and has a sweet old-fashioned appeal with a lanky upper body, long arms, tubby tummy, big round feet and the sweetest face you've ever seen. Honey is a sitting style of teddy bear. Everyone falls in love with Honey Tubs, and in this amazing enormous size, your gift will be remembered forever!

How BIG is this Giant Teddy?
Honey Tubs is an enormous life size teddy bear, 70in (5' 10") tall and here is how that looks:

Searching for other premium Giant teddy bears sizes?
click on our comparison chart to meet the rest!




Giant Teddy has more Bear Family Styles, Colors and Sizes than anyone.

Which bear is calling your name?

Warranty Information

Warranty Information

Each Giant Teddy bear is made of high quality plush fabric and passes all U.S. safety standards. Every Giant Teddy bear is guaranteed for 6 months, from the purchase date, against defects in material and workmanship. The accessories and props, including clocks & heart pillows, pictured alongside this item may not be included; they are shown for size and proportion comparison only. See product description for accessories, if any, included with this item

Reviews