Big Red Teddy Bear Riley Chubs 72in
Bear Bio:
Riley Chubs is the definition of cuteness (there really should be a picture of him next to that word!) and we think you'll agree when you meet this humongous life size red teddy bear! Riley is a whopping 72in tall (6ft) with beautiful rich true red fur that is soft and snuggly. He's huge hugging perfection with a big chubby plump teddy bear body and big round arms, legs and head. Riley's sweet teddy bear face will charm you, with dark eyes and a soft brown nose. He even has a cute little bear tail in back. Perfect as a Valentine's Day Teddy Bear, Christmas, or anytime you need some major Red Teddy Bear Cuteness. Riley Chubs jumbo teddy bear is a gift that will be remembered forever.
How BIG is this Giant Teddy?
Riley Chubs is a life size teddy bear, 72in (6') and here's how that looks: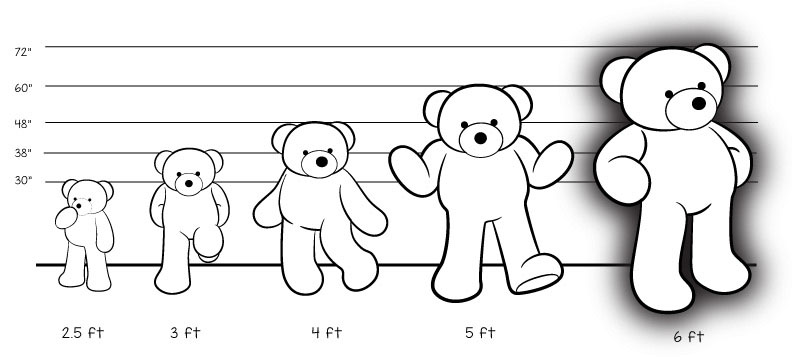 Other Colors available in our Giant Teddy Chubs Bear Family:
How Fast Will Riley Chubs Family Arrive?
We make it easy to order oversized teddy bears online, delivered to your door with FREE SHIPPING in the 48 Continental U.S. states. Please allow 4 to 6 business days for Free Shipping. Need your Giant Teddy to arrive faster? We offer Overnight and Second Day delivery in the 48 Continental States (restrictions may apply.) You can see our delivery map for estimated Bear Travel Time to your shipping location, or use the "Estimate Shipping & Tax" tool once you place an item in your shopping cart. All available Shipping Options based on your delivery zip code will be shown while you are checking out. Want to send a Giant Teddy somewhere outside the US 48? See our Shipping Page for information or use the "Estimate Shipping & Tax" tool in the shopping cart to see what options we offer for your shipping destination's zip code, postal code and country.
How Will Riley Chubs Family Travel?
All of our Giant Teddy bears travel either in a printed or plain cardboard box delivered directly to your door. Most Giant Teddy Bears will arrive in a vacuum-sealed bag inside the cardboard box. If you need a plain cardboard box for a "surprise gift" please tell us in the order comments section. Open carefully and watch your bear grow to life-size!
Have more questions about the Giant Teddy brand, our bears or our warranty? Ask us... info@giantteddy
Additional Information
All stuffed animals crafted by Giant Teddy are stuffed to order at our headquarters in Anaheim, California. We design all aspects of the stuffed animals, including the stitching of the expressions on the face, color of the plush fur, and even precise arrangement of the paw pads. Our designs are executed and produced exactly in collaboration with partners in China, from where we source the luxe shells. New polyester filling is sourced locally in the US, then processed into premium, fluffy Giant Teddy stuffing by our technicians in Anaheim. We stuff the bears, finish them by hand, and inspect each one for perfection before shipping. Our bears are guaranteed to last you a lifetime.
All Giant Teddy bears exceed U.S. child safety standards.
The accessories and props, including clocks & heart pillows, pictured alongside this item may not be included; they are shown for size and proportion comparison only. See product description for accessories, if any, included with this item.
Remove any unattached accessories, all tags and plastic loops before giving to a child younger than 3 years of age
Description

Big Red Teddy Bear Riley Chubs 72in

Bear Bio:
Riley Chubs is the definition of cuteness (there really should be a picture of him next to that word!) and we think you'll agree when you meet this humongous life size red teddy bear! Riley is a whopping 72in tall (6ft) with beautiful rich true red fur that is soft and snuggly. He's huge hugging perfection with a big chubby plump teddy bear body and big round arms, legs and head. Riley's sweet teddy bear face will charm you, with dark eyes and a soft brown nose. He even has a cute little bear tail in back. Perfect as a Valentine's Day Teddy Bear, Christmas, or anytime you need some major Red Teddy Bear Cuteness. Riley Chubs jumbo teddy bear is a gift that will be remembered forever.

How BIG is this Giant Teddy?
Riley Chubs is a life size teddy bear, 72in (6') and here's how that looks:




Other Colors available in our Giant Teddy Chubs Bear Family:

How Fast Will Riley Chubs Family Arrive?

We make it easy to order oversized teddy bears online, delivered to your door with FREE SHIPPING in the 48 Continental U.S. states. Please allow 4 to 6 business days for Free Shipping. Need your Giant Teddy to arrive faster? We offer Overnight and Second Day delivery in the 48 Continental States (restrictions may apply.) You can see our delivery map for estimated Bear Travel Time to your shipping location, or use the "Estimate Shipping & Tax" tool once you place an item in your shopping cart. All available Shipping Options based on your delivery zip code will be shown while you are checking out. Want to send a Giant Teddy somewhere outside the US 48? See our Shipping Page for information or use the "Estimate Shipping & Tax" tool in the shopping cart to see what options we offer for your shipping destination's zip code, postal code and country.

How Will Riley Chubs Family Travel?
All of our Giant Teddy bears travel either in a printed or plain cardboard box delivered directly to your door. Most Giant Teddy Bears will arrive in a vacuum-sealed bag inside the cardboard box. If you need a plain cardboard box for a "surprise gift" please tell us in the order comments section. Open carefully and watch your bear grow to life-size!

Have more questions about the Giant Teddy brand, our bears or our warranty? Ask us... info@giantteddy

Additional Information

Additional Information

All stuffed animals crafted by Giant Teddy are stuffed to order at our headquarters in Anaheim, California. We design all aspects of the stuffed animals, including the stitching of the expressions on the face, color of the plush fur, and even precise arrangement of the paw pads. Our designs are executed and produced exactly in collaboration with partners in China, from where we source the luxe shells. New polyester filling is sourced locally in the US, then processed into premium, fluffy Giant Teddy stuffing by our technicians in Anaheim. We stuff the bears, finish them by hand, and inspect each one for perfection before shipping. Our bears are guaranteed to last you a lifetime.

All Giant Teddy bears exceed U.S. child safety standards.

The accessories and props, including clocks & heart pillows, pictured alongside this item may not be included; they are shown for size and proportion comparison only. See product description for accessories, if any, included with this item.

Remove any unattached accessories, all tags and plastic loops before giving to a child younger than 3 years of age

Reviews

Reviews

Beautiful bear got it for my gf birthday that's coming up it's in her favorite color so it's a must buy product