Your sweetheart is extraordinary, so not just any gift will do… that's why we created this impressive and unique gift set with our life size 4.5ft (54in!) enormous stuffed hippo and beautiful red "Happy Valentine's Day" heart pillow. There will be a lot of hugs and cuddles this February 14th - but you might have to share some with the hippo!
All About Bari Kubu Stuffed Hippo
Life Size Enormous 54in size (4.5 feet!)

Super Soft Cuddly Light Grey Fur

Huggable & Cute with Adorable Hippo Features

Big plush red heart pillow featuring "Happy Valentine's Day" and a cute little cupid embroidered on the front is included in this gift set

Complimentary full size greeting card with up to 70 word message from you printed inside also included
How BIG is this Giant Teddy Brand Stuffed Animal Friend?
Our 54in Hippo looks like this: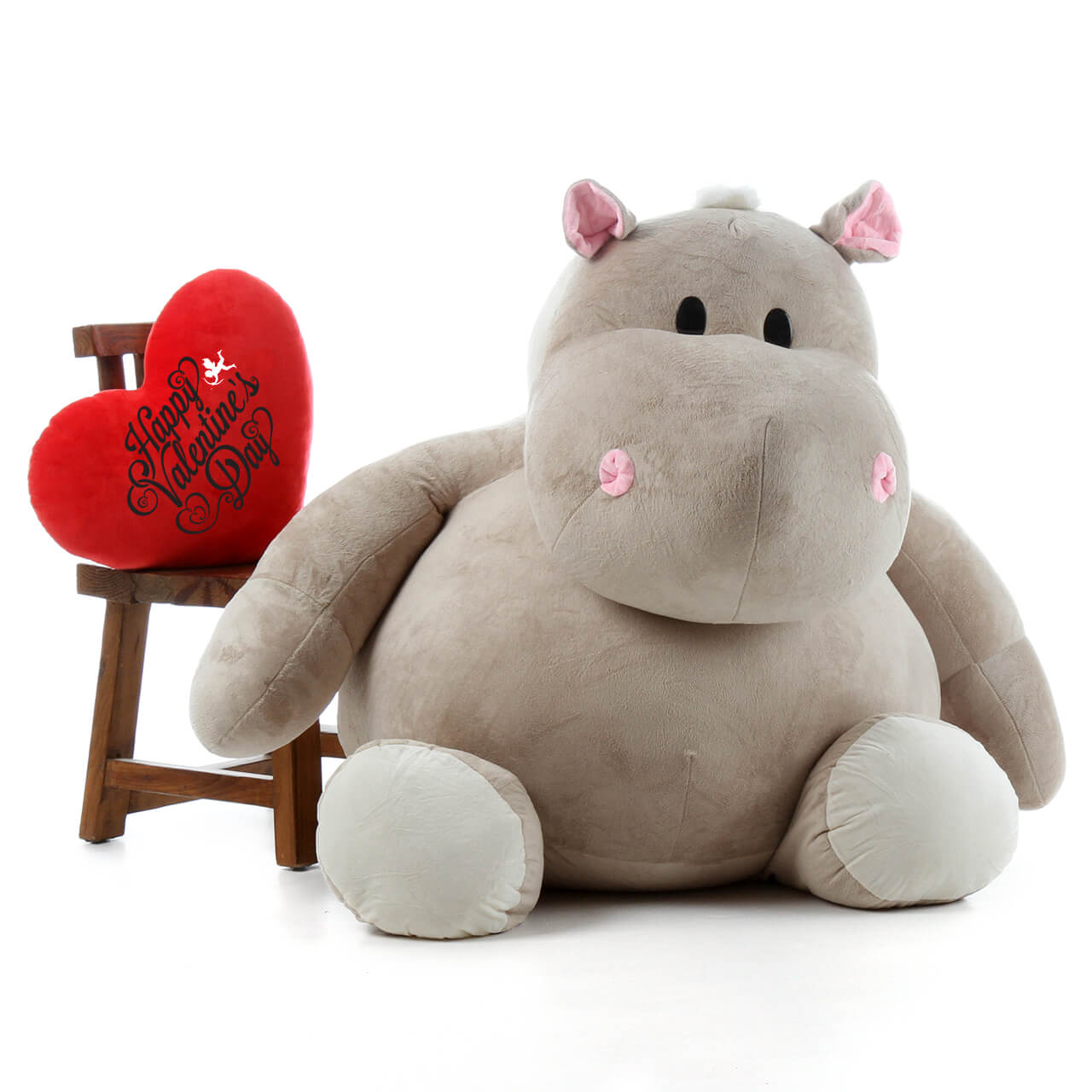 Additional Information
Each Giant Teddy bear is made of high quality plush fabric and passes all U.S. safety standards. Every Giant Teddy bear is guaranteed for 6 months, from the purchase date, against defects in material and workmanship. The accessories and props, including clocks & heart pillows, pictured alongside this item may not be included; they are shown for size and proportion comparison only. See product description for accessories, if any, included with this item
Description

Your sweetheart is extraordinary, so not just any gift will do… that's why we created this impressive and unique gift set with our life size 4.5ft (54in!) enormous stuffed hippo and beautiful red "Happy Valentine's Day" heart pillow. There will be a lot of hugs and cuddles this February 14th - but you might have to share some with the hippo!

All About Bari Kubu Stuffed Hippo

Life Size Enormous 54in size (4.5 feet!)

Super Soft Cuddly Light Grey Fur

Huggable & Cute with Adorable Hippo Features

Big plush red heart pillow featuring "Happy Valentine's Day" and a cute little cupid embroidered on the front is included in this gift set

Complimentary full size greeting card with up to 70 word message from you printed inside also included

How BIG is this Giant Teddy Brand Stuffed Animal Friend?

Our 54in Hippo looks like this:

Additional Information

Additional Information

Each Giant Teddy bear is made of high quality plush fabric and passes all U.S. safety standards. Every Giant Teddy bear is guaranteed for 6 months, from the purchase date, against defects in material and workmanship. The accessories and props, including clocks & heart pillows, pictured alongside this item may not be included; they are shown for size and proportion comparison only. See product description for accessories, if any, included with this item