Personalized Greeting Heart Pillows: Happy Valentine's Day- I Love You! & Red Heart
Product Info:
This decorative Heart Pillow Pair is so romantic, and is a perfect gift for the person who holds your heart this Valentine's! Awesome by themselves, or add this Pillow Pair to any Giant Teddy bear order.
(2) decorative heart pillows in our XL 18in size

Super Soft and Cuddly

Beautiful black embroidered Happy Valentine's Day- I Love You! message and Red Heart

Complimentary greeting card, add up to a 70 word message.

Perfect for decorating a bedroom, dorm room, office or living space as a reminder of your love
*Note: These personalized greeting heart pillows can be added to any teddy bear order, but does not come with a teddy bear included. However the items may be shipped in a separate box if ordered with a teddy bear.
The Loving doesn't stop there!
Click the image below to view our entire Heart Gallery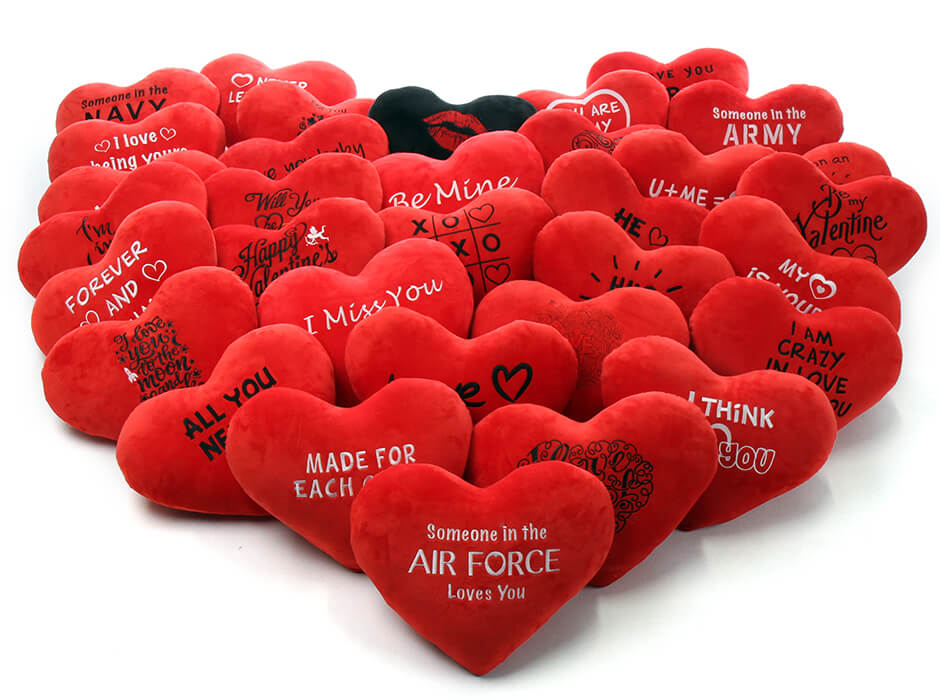 Description

Personalized Greeting Heart Pillows: Happy Valentine's Day- I Love You! & Red Heart

Product Info:
This decorative Heart Pillow Pair is so romantic, and is a perfect gift for the person who holds your heart this Valentine's! Awesome by themselves, or add this Pillow Pair to any Giant Teddy bear order.

(2) decorative heart pillows in our XL 18in size

Super Soft and Cuddly

Beautiful black embroidered Happy Valentine's Day- I Love You! message and Red Heart

Complimentary greeting card, add up to a 70 word message.

Perfect for decorating a bedroom, dorm room, office or living space as a reminder of your love

*Note: These personalized greeting heart pillows can be added to any teddy bear order, but does not come with a teddy bear included. However the items may be shipped in a separate box if ordered with a teddy bear.

The Loving doesn't stop there!

Click the image below to view our entire Heart Gallery

Additional Information
Reviews