Big Red Teddy Bear Riley Chubs 48in
Bear Bio:
Riley Chubs has a lot going for him… he's adorable and cute, he's the perfect shade of red, and he's a huge 4ft (48in) teddy bear that everyone wants to hug! Riley's fur is beautiful and rich, deep red (think Christmas and Valentine's Day) and so snuggly soft you'll want to take him everywhere you go in case you need a bear hug fix. He's part of our Chubs family, and that means he's a big chubby teddy bear with round arms and legs and a huge head, along with a soft brown nose, dark eyes, and a cute little tail. Riley is the perfect teddy bear gift for someone you love.
How BIG is this Giant Teddy?
Riley Chubs is a life size teddy bear, 48in (4') and here's how that looks: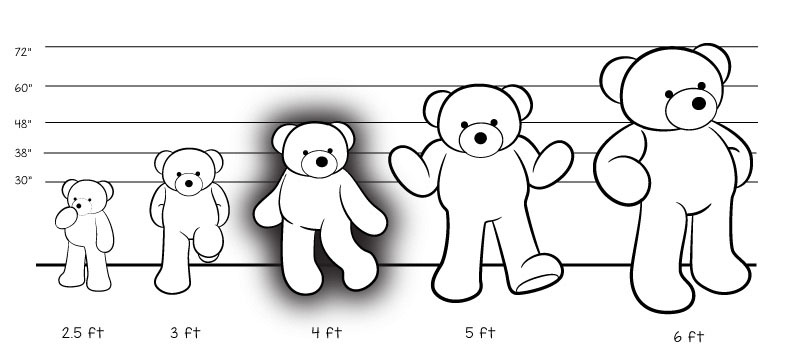 Each Giant Teddy bear is made of high quality plush fabric and passes all U.S. safety standards. Every Giant Teddy bear is guaranteed for 6 months, from the purchase date, against defects in material and workmanship. The accessories and props, including clocks & heart pillows, pictured alongside this item may not be included; they are shown for size and proportion comparison only. See product description for accessories, if any, included with this item
Life Size Red Teddy Bear Bitsy Cuddles 48in Bear Bio:If you want to say, "I love you" in a way they'll remember forever, send them a 4ft life size rare red teddy bear named...
Big Red Teddy Bear Riley Chubs 38in Bear Bio:Riley Chubs has big teddy bear dreams of being the perfect gift for someone you love, and he's very well qualified since he's so adorable...