Life Size Amber Brown Teddy Bear Shaggy Cuddles 60in
Bear Bio:
When you want to show someone you care, send a 5 foot tall teddy bear!
Give the gift of friendship and tenderness with a Giant Teddy stuffed bear like Shaggy Cuddles. An extremely soft and huggable life size plush bear with a heavenly plush amber coat. Its big brown eyes are filled with a lively twinkle, an expression of the love and kindness that extends to Shaggy's new home! Its chubby nose is made of smooth velveteen fabric; divinely soothing to the touch.
This precious, well-proportioned life size teddy bear is stuffed with love in the USA and measures 60" in height. Shaggy is also one of our biggest teddy bears, available in smaller sizes in a kaleidoscope of colors too. She wears a dashing checkered bow that adds the right touch of whimsy to her design. Pillows are NOT included! Being well constructed, durable, made with child safe fabrics & components and meeting or exceeding all US safety standards, guarantees, that Shaggy Cuddles is perfect for snuggling! A wonderful collectible, as all Giant Teddy bears are!
Shaggy Cuddles is one of our Famous Giant Teddy Bears from TV and social media. See his Bio and Press Releases on our Bear Paw Walk of Fame.

How BIG is this Giant Teddy?
Shaggy Cuddles is a life size teddy bear 60in (5' 0") tall and here is how that looks: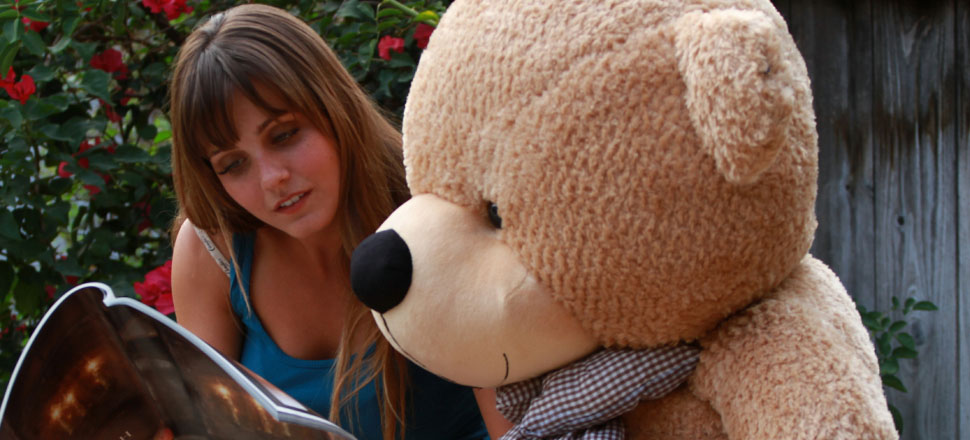 Shaggy Cuddles Amber Brown Teddy Bear also comes in these sizes: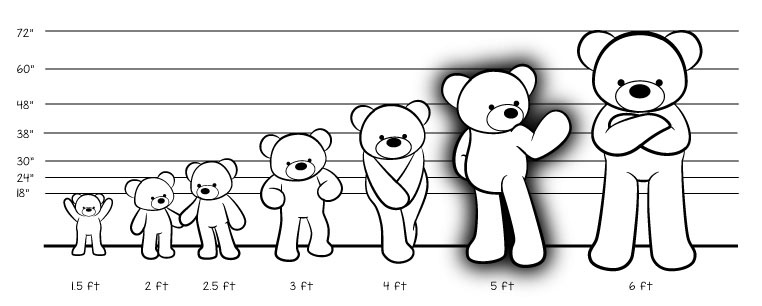 Warranty Information
Each Giant Teddy bear is made of high quality plush fabric and passes all U.S. safety standards. Every Giant Teddy bear is guaranteed for 6 months, from the purchase date, against defects in material and workmanship. The accessories and props, including clocks & heart pillows, pictured alongside this item may not be included; they are shown for size and proportion comparison only. See product description for accessories, if any, included with this item
Description

Life Size Amber Brown Teddy Bear Shaggy Cuddles 60in

Bear Bio:
When you want to show someone you care, send a 5 foot tall teddy bear!

Give the gift of friendship and tenderness with a Giant Teddy stuffed bear like Shaggy Cuddles. An extremely soft and huggable life size plush bear with a heavenly plush amber coat. Its big brown eyes are filled with a lively twinkle, an expression of the love and kindness that extends to Shaggy's new home! Its chubby nose is made of smooth velveteen fabric; divinely soothing to the touch.

This precious, well-proportioned life size teddy bear is stuffed with love in the USA and measures 60" in height. Shaggy is also one of our biggest teddy bears, available in smaller sizes in a kaleidoscope of colors too. She wears a dashing checkered bow that adds the right touch of whimsy to her design. Pillows are NOT included! Being well constructed, durable, made with child safe fabrics & components and meeting or exceeding all US safety standards, guarantees, that Shaggy Cuddles is perfect for snuggling! A wonderful collectible, as all Giant Teddy bears are!

Shaggy Cuddles is one of our Famous Giant Teddy Bears from TV and social media. See his Bio and Press Releases on our Bear Paw Walk of Fame.

How BIG is this Giant Teddy?
Shaggy Cuddles is a life size teddy bear 60in (5' 0") tall and here is how that looks:

Shaggy Cuddles Amber Brown Teddy Bear also comes in these sizes:


Warranty Information

Warranty Information

Each Giant Teddy bear is made of high quality plush fabric and passes all U.S. safety standards. Every Giant Teddy bear is guaranteed for 6 months, from the purchase date, against defects in material and workmanship. The accessories and props, including clocks & heart pillows, pictured alongside this item may not be included; they are shown for size and proportion comparison only. See product description for accessories, if any, included with this item

Reviews

Reviews

Ahh man. It was more than we expected. The person for which it was purchased, has thoroughly enjoyed it. It is soft and cuddly.

The item was shipped fast and arrived very quickly..in excellent condition. The person who received it very much enjoyed it and is enjoying it. Very good Teddy...

My son is epileptic and does not like sleeping in the bed cause he fears falling out he was sleeping on a air mattress but since he got the bear he only sleeps on the bear he said it's way better, softer and more comfortable than the air mattress.

He is of the highest quality and he is HUGE!
This bear is 2 inches taller than my girlfriend and she loves him. Named him Norman.
His value is worth the price, no doubt!
Who ever you give this to will love it

This is a beautiful, soft, lovable bear and worth every penny. Great quality and design.

I love him so much, he's so soft & cuddly

This company delivers what it promised. Very reliable and profesional. The type you can really depend on. You get top value for your dollar. .definitely will recommend them to everyone who wants giant teddy bear for their loveones