Personalized "Go to prom with me?" 60in Dark Chocolate Brown Brownie Cuddles Teddy Bear

Oh. Yeah. Your date will be the envy of everyone when you ask them to prom with this huge life size 5ft teddy bear wearing our double heart, "Go to prom with me?" teddy bear shirt. Brownie Cuddles is so soft and cuddly, with rich dark brown chocolate fur and a sweet face. He had big brown eyes, a soft, chubby black nose and a big smile on his face. Brownie is huggable and snuggly soft all over, and will steal part of your date's heart (you of course hold the other part!)
The shirt is specially sized for our 5ft Brownie Cuddles, and is washable and removable, so your date will end up with a teddy bear friend forever and the prom shirt can go in his/her memory box.

How BIG is this Giant Teddy?
Chocolate Cuddles is a huge life size teddy bear 60in tall (5' 0") and here is how that looks:


You Might Like:
Our other special occasion bears!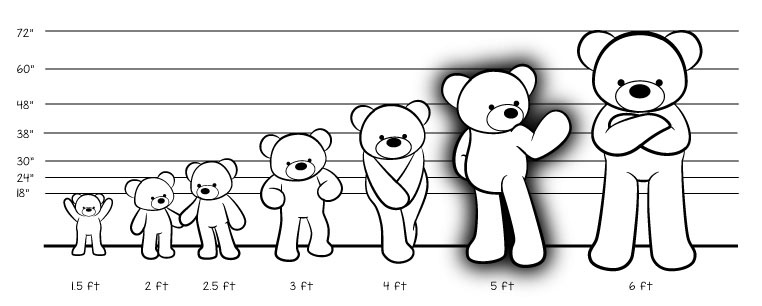 Warranty Information
Each Giant Teddy bear is made of high quality plush fabric and passes all U.S. safety standards. Every Giant Teddy bear is guaranteed for 6 months, from the purchase date, against defects in material and workmanship. The accessories and props, including clocks & heart pillows, pictured alongside this item may not be included; they are shown for size and proportion comparison only. See product description for accessories, if any, included with this item
Description

Personalized "Go to prom with me?" 60in Dark Chocolate Brown Brownie Cuddles Teddy Bear

Oh. Yeah. Your date will be the envy of everyone when you ask them to prom with this huge life size 5ft teddy bear wearing our double heart, "Go to prom with me?" teddy bear shirt. Brownie Cuddles is so soft and cuddly, with rich dark brown chocolate fur and a sweet face. He had big brown eyes, a soft, chubby black nose and a big smile on his face. Brownie is huggable and snuggly soft all over, and will steal part of your date's heart (you of course hold the other part!)

The shirt is specially sized for our 5ft Brownie Cuddles, and is washable and removable, so your date will end up with a teddy bear friend forever and the prom shirt can go in his/her memory box.

How BIG is this Giant Teddy?
Chocolate Cuddles is a huge life size teddy bear 60in tall (5' 0") and here is how that looks:

You Might Like:
Our other special occasion bears!


Warranty Information

Warranty Information

Each Giant Teddy bear is made of high quality plush fabric and passes all U.S. safety standards. Every Giant Teddy bear is guaranteed for 6 months, from the purchase date, against defects in material and workmanship. The accessories and props, including clocks & heart pillows, pictured alongside this item may not be included; they are shown for size and proportion comparison only. See product description for accessories, if any, included with this item

Reviews