Life Size Chocolate Brown Teddy Bear Brownie Cuddles 60in
Bear Bio:
A 5 foot tall teddy bear is waiting for a place to call home. Give the gift of friendship and tenderness with a Giant Teddy stuffed bear like Brownie Cuddles. An extremely soft and huggable bear with a heavenly plush chocolate brown coat. Its big brown eyes are filled with a lively twinkle, an expression of the love and kindness that extends to Brownie's new home! Its chubby nose is made of smooth velveteen fabric; divinely soothing to the touch.
This large precious teddy bear measures 60" in height and is also available in larger and smaller sizes in a kaleidoscope of colors. It wears a dashing checkered bow that adds the right touch of whimsy to its design. Being well constructed, durable, made with child safe fabrics and meeting or exceeding all US safety standards guarantees that Brownie Cuddles is perfect for snuggling! A wonderful collectible, as all Giant Teddy bears are!
How BIG is this Giant Teddy?
Brownie Cuddles is a life size teddy bear 60in (5' 0") tall and here is how that looks: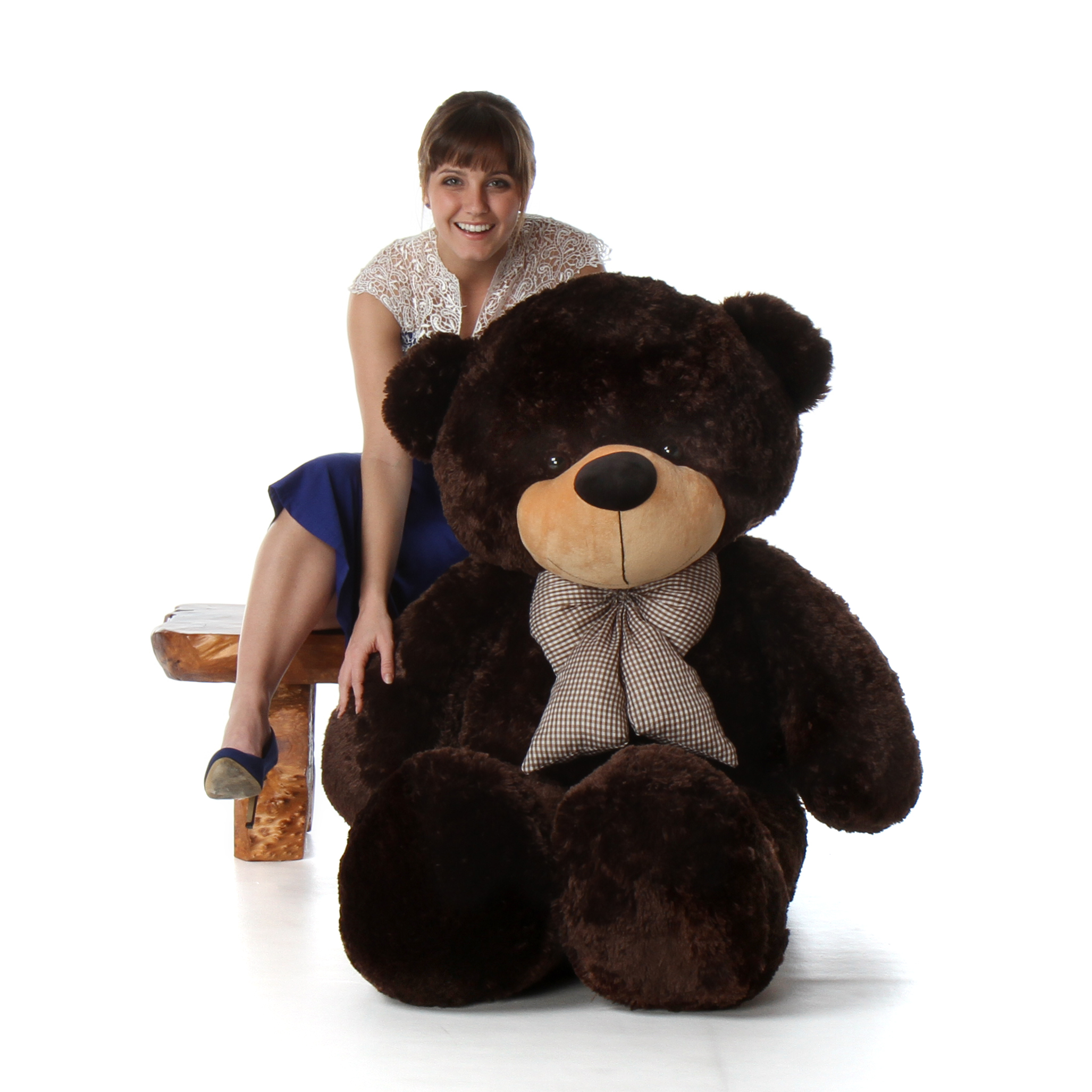 Brownie Cuddles Chocolate Brown Teddy Bear also comes in these sizes: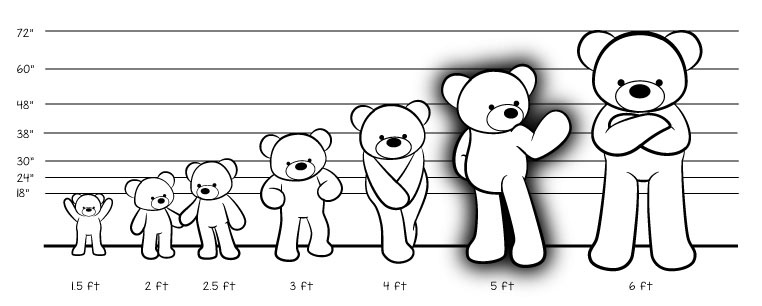 Warranty Information
Each Giant Teddy bear is made of high quality plush fabric and passes all U.S. safety standards. Every Giant Teddy bear is guaranteed for 6 months, from the purchase date, against defects in material and workmanship. The accessories and props, including clocks & heart pillows, pictured alongside this item may not be included; they are shown for size and proportion comparison only. See product description for accessories, if any, included with this item
Description

Life Size Chocolate Brown Teddy Bear Brownie Cuddles 60in

Bear Bio:
A 5 foot tall teddy bear is waiting for a place to call home. Give the gift of friendship and tenderness with a Giant Teddy stuffed bear like Brownie Cuddles. An extremely soft and huggable bear with a heavenly plush chocolate brown coat. Its big brown eyes are filled with a lively twinkle, an expression of the love and kindness that extends to Brownie's new home! Its chubby nose is made of smooth velveteen fabric; divinely soothing to the touch.

This large precious teddy bear measures 60" in height and is also available in larger and smaller sizes in a kaleidoscope of colors. It wears a dashing checkered bow that adds the right touch of whimsy to its design. Being well constructed, durable, made with child safe fabrics and meeting or exceeding all US safety standards guarantees that Brownie Cuddles is perfect for snuggling! A wonderful collectible, as all Giant Teddy bears are!

How BIG is this Giant Teddy?
Brownie Cuddles is a life size teddy bear 60in (5' 0") tall and here is how that looks:



Brownie Cuddles Chocolate Brown Teddy Bear also comes in these sizes:



Warranty Information

Warranty Information

Each Giant Teddy bear is made of high quality plush fabric and passes all U.S. safety standards. Every Giant Teddy bear is guaranteed for 6 months, from the purchase date, against defects in material and workmanship. The accessories and props, including clocks & heart pillows, pictured alongside this item may not be included; they are shown for size and proportion comparison only. See product description for accessories, if any, included with this item

Reviews

Reviews

My granddaughter adored it. It was a birthday gift. Giant teddy gets our vote!

I bought this for my daughter's 18th birthday, this is something that she's been wanting for a long time......but her reaction when she open the box was priceless .....she almost cried and not to mention I absolutely love the quality of the fabric, it's just a beautiful teddy bear

Gave it as a gift to welcome a newborn. The parents love it. Visiting kids love it more. Heirloom quality at a great price. Thank you.

Girlfriend liked it, would reccomend