'My First Christmas' Personalized Teddy Bear
Life Size 48in Pink Lady Cuddles
Bear Bio:
Lady Cuddles is a pink life size 4ft (48in) "My First Christmas" Personalized Teddy Bear, and she will make this first holiday season with your new baby girl extra sweet and memorable with fun photo opportunities gathered around the tree with family and friends. Lady Cuddles has perfect baby girl light pink fur that is as soft as – well, a baby! Lady has warm brown eyes, a soft, chubby black nose and a great big smile. For this special occasion, Lady Cuddles is wearing our personalized shirt featuring the text, "My First Christmas" along with your baby's first name and the year, and a sweet teddy bear design. The shirt is white, removable and washable. Lady Cuddles can go on to become your little girl's Best Bear Friend for years to come – and you can keep the personalized shirt in your baby memory box.
How BIG is this Giant Teddy?
Lady Cuddles Personalized "My First Christmas" teddy bear is a life size 48in (4' 0") tall and here is how that looks: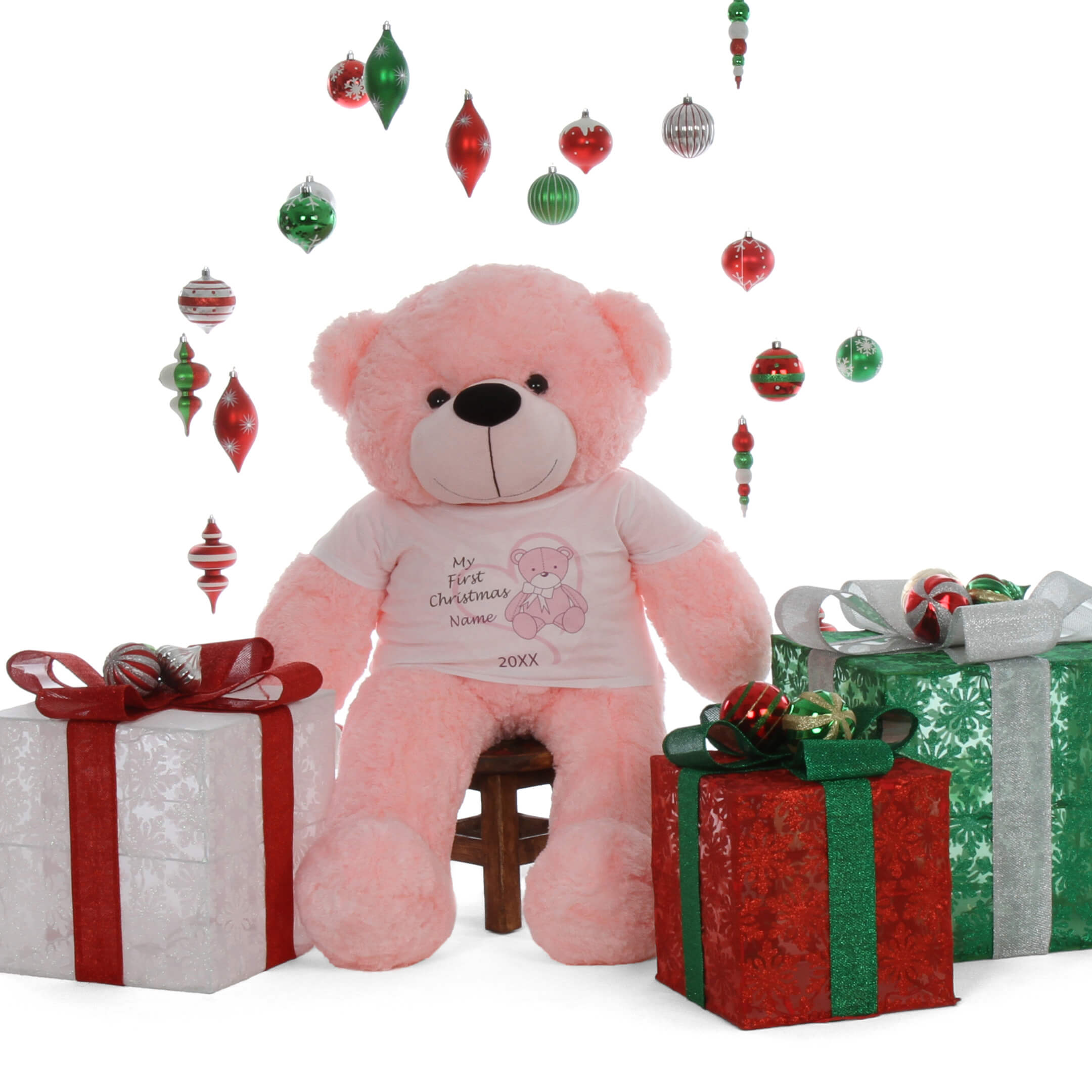 Searching for other premium Pink giant teddy bears sizes?
Click on our comparison chart below to meet the rest!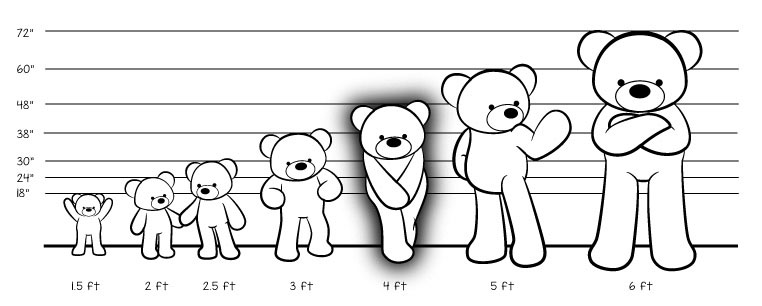 'My First Christmas' Personalized Teddy Bear also comes in Blue: Happy Cuddles 48in Blue My First Christmas Teddy Bear

Check out our unique color collection of the Cuddles Family here.




Warranty Information
Each Giant Teddy bear is made of high quality plush fabric and passes all U.S. safety standards. Every Giant Teddy bear is guaranteed for 6 months, from the purchase date, against defects in material and workmanship. The accessories and props, including clocks & heart pillows, pictured alongside this item may not be included; they are shown for size and proportion comparison only. See product description for accessories, if any, included with this item
Description

'My First Christmas' Personalized Teddy Bear
Life Size 48in Pink Lady Cuddles

Bear Bio:
Lady Cuddles is a pink life size 4ft (48in) "My First Christmas" Personalized Teddy Bear, and she will make this first holiday season with your new baby girl extra sweet and memorable with fun photo opportunities gathered around the tree with family and friends. Lady Cuddles has perfect baby girl light pink fur that is as soft as – well, a baby! Lady has warm brown eyes, a soft, chubby black nose and a great big smile. For this special occasion, Lady Cuddles is wearing our personalized shirt featuring the text, "My First Christmas" along with your baby's first name and the year, and a sweet teddy bear design. The shirt is white, removable and washable. Lady Cuddles can go on to become your little girl's Best Bear Friend for years to come – and you can keep the personalized shirt in your baby memory box.

How BIG is this Giant Teddy?
Lady Cuddles Personalized "My First Christmas" teddy bear is a life size 48in (4' 0") tall and here is how that looks:





Searching for other premium Pink giant teddy bears sizes?
Click on our comparison chart below to meet the rest!


'My First Christmas' Personalized Teddy Bear also comes in Blue: Happy Cuddles 48in Blue My First Christmas Teddy Bear

Check out our unique color collection of the Cuddles Family here.





Warranty Information

Warranty Information

Each Giant Teddy bear is made of high quality plush fabric and passes all U.S. safety standards. Every Giant Teddy bear is guaranteed for 6 months, from the purchase date, against defects in material and workmanship. The accessories and props, including clocks & heart pillows, pictured alongside this item may not be included; they are shown for size and proportion comparison only. See product description for accessories, if any, included with this item

Reviews